Two packages in the mail today, again shoes & tights! The final pair from my
Aldo order
, which I *big puffy heart.* They're not always perfect, but they're closer to ideal than most any other brand I've found. The sizing is very consistent for my inconsistent feet, so I'm pleased. And the quality is awfully good for an average of $40 a pair (I buy them mostly on sale). A few specific styles haven't worked on me due to where a vamp hits on my foot (especially my right foot, which is the bigger, wider one), but in general, if Aldo has a 39 in stock, it'll work out fine. Except for tall boots -- alas, my calf is too wide for them as with most places, unless the boot has an elastic gusset.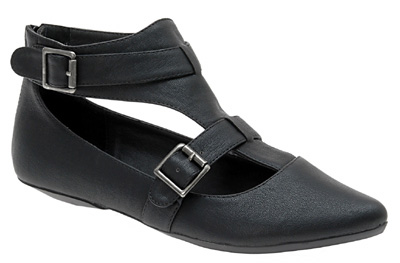 I can't wait to figure this shoe into some outfits. It's adorable. It's a gothic elf shoe. I have another pair of Aldo flats with a skinny T-strap that I wear allllllll the time, they're insanely comfy, I walked all over London in them last May, I've worn them with costumes, they're the best, & yes, I was inspired to get them after seeing Sarah's & how cute they looked on her. It's a testament to shoes if they can look great on a itty size 5 or whatever minuscule wee foot she has & a big ol' honkin' wide 8 (9 European) foot too. I'm hoping these ones with the bigger buckles will be BFFs to the other Aldo flats.
The other box was full of Calvin Klein tights. A ton of plain black, plus a few textured tights in black, one in grey, & one black lacy pair. So much tights goodness that my hosiery drawer is stuffed to overflowing now!