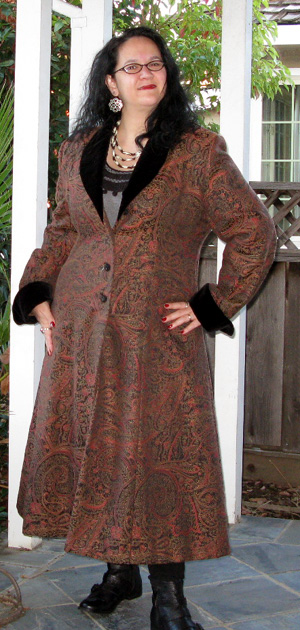 Welcome to Northern California winter, such as it is. High 30s / mid 40s in the morning, mid 60s at the top of the day. Yeah, yeah, nothing compared to the East Coast or Canada or anywhere with real seasons, but I don't do weather. That's why I live here.
Thus, I'm wearing a coat for today's pix. My "nice" winter coat, which I commissioned about 2 years ago from a costuming friend. Sure, I sew, but I am more than happy to pay other people to sew for me, especially modern clothes, so I can save up my often-limited sewing mojo. Plus, sometimes friends are looking for work, & I love to keep my business local when I can.
I chose a long, princess-seamed coat design with contrasting shawl collar & cuffs in black velvet. She found a lovely wool in a paisley with black & rich browns, burgundies, & gold. The coat is lined in black silk & is quite cozy. I don't have many coats, just a rainproof trench, & a suede swingcoat from the '80s, so this was a great addition.
What I'm wearing:
Wool paisley coat, custom-made
Grey knit dress with black trim, Next in London
Black leggings, Newport News
Black buckled ankle boots, Aldo (
see closeup here
)
Necklace of black & white African hand-painted tube beads & round black Moroccan jet beads, one long strand worn tripled, made by me
Large silver filigree earrings, Target
Red-brown lipstick, Lorac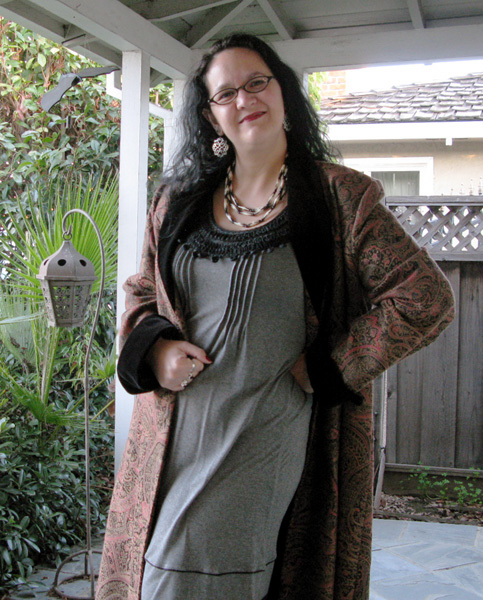 Rather casual outfit under the coat. That's because I was having friends over right after work for a stitch 'n bitch, so no time to change, & I wanted an outfit that'd be comfy for sitting on the floor doing projects.
Also, it's the first night of Hanukkah, & while I'm not Jewish, I love to celebrate (I'm not Christian, but I celebrate Christmas too), & I was making latkes tonight for friends (ok, I heated up Trader Joe's frozen latkes & other treats, but still, I needed to wear something that was kitchen-friendly).
Oh & I love parentheticals!