I didn't plan it, but this is my last outfit worn to the office in 2010. I thought I'd be going into the office on Wednesday & then working from home on Thursday; we have Friday off, along with all of next week. But this afternoon, my supervisor came by & said there was no need for me to come in tomorrow if I didn't want to. Turned out everyone else in our department was working from home or on vacation already!
What I'm wearing:
Black lace jacket, Macy's
Black long-sleeve T-shirt, Old Navy
Dark grey jeans, Calvin Klein
Black pointy boots with buckle accents, Baker's Shoes
Pale pink glass bib necklace, Forever 21
Black Victorian-esque dangly earrings, random accessory store
Dark cherry lipstick, Sephora
These are the jeans I ended up buying on my recent
quest
, & I give them a solid "thumbs up." Very comfortable & attractive. No gaping at the waist, & they don't feel quite as short as I initially thought (tho' I still wouldn't wear them with little flats).
This evening, I received the additional jeans I ordered from Macy's online. The "worn black" wash CKs are awesome! Same fit as the ones pictured here, almost true black, plus there are black studs along the front & back pockets for a nice, punky touch. Love them!!! Unfortunately, the Calvin "skinny" jeans were all a failure. Same size as the above, but apparently it's not just the legs that are skinny -- I couldn't zip 'em up. Ugh.
The Levis were the right length, nice cut, & a rich, true black, but not the right size. I think I just misremembered from what I tried on in the store (fingers crossed). If the Levis 512s are available online, I'll try the next size up. All of these jeans were in the $30 to $50 price range, most were on sale, & I consider this a perfectly reasonable price for jeans that fit. Especially black jeans!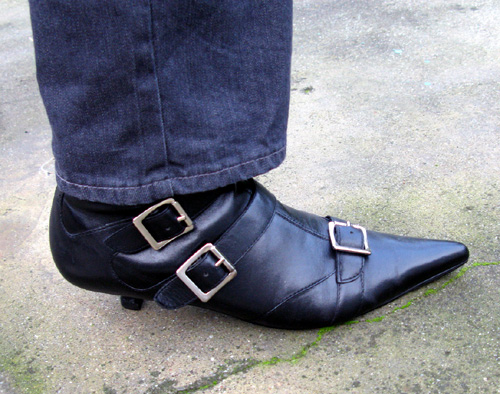 Not totally satisfied with this outfit. For one, I need to replace the buttons on this jacket. They're cheap, ugly plastic. With all the holiday crafting I'm doing, I didn't want to lose the jacket in my sewing room, so I hung it up in the closet immediately. Thus, I forgot about changing the buttons & then thought, hey, cute jacket I haven't worn! Oh well. I'll get to that little project next week, when I'm off work. I plan to blog a little bit more then, maybe even some casual outfits. We shall see...