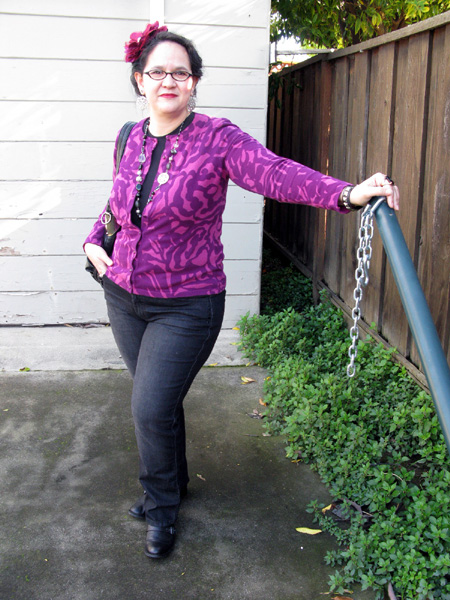 On vacation this week, kicking around the house, not doing much -- which is awesome! I never get this kind of break. So yesterday, my husband & I went out & bought each other the xmas gifts we decided we really needed.
For me, an iPad & a G4 iPhone (upgrade from my old iPhone). For him, a better big-screen TV & Blu-Ray player (also kind of a business need; he's a professional videographer & shows demos in our living room, so this will show off his work). I also got him a fabulous black cotton-velveteen blazer that we randomly saw at Macy's, then we had a leisurely lunch.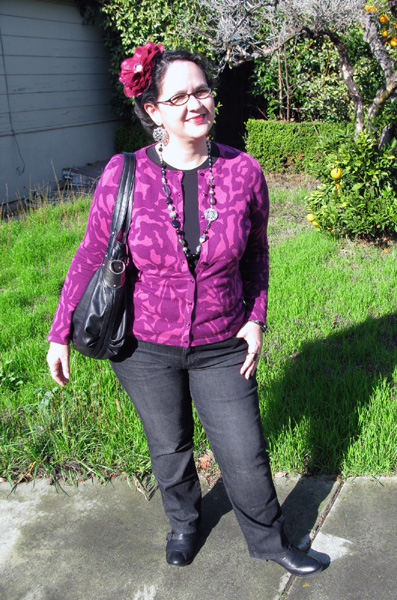 What I'm wearing:
Purple & pink patterned cardigan, Chadwicks
Black T-shirt, Gap
Black jeans with studs at the pockets, Calvin Klein
Black buckled flat boots, Aldo
Burgundy flower hair pin, Forever 21
Large silver filigree earrings, Target
Black & silver beaded necklace, Target
Cabernet lipstick, Tarte
Black leather purse with metal accents, Jessica Simpson
Today, I'm playing with the iPad & dyeing my hair (black, as always). And it's raining, so I don't think I'm going anywhere.
I hope those of you who are off work are also enjoying the time!