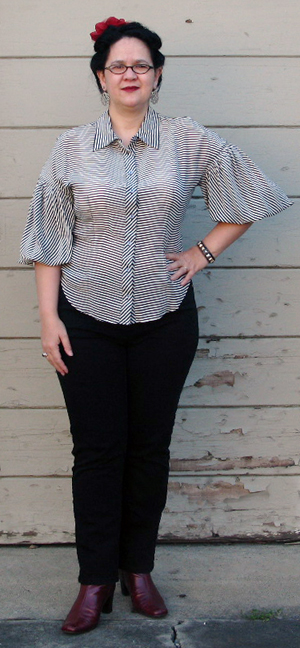 I usually work from home on Fridays, so I dress *very* casually. We're talking PJs or yoga pants & T-shirts. Also, my office is *very* casual, so I could wear jeans every single day of the week & be right in line with what most people wear. But I don't, because, well, you know, that's not my style.
I did have to go into the office today because a senior VP was coming up from the SoCal office to have lunch with everyone in our office. It wasn't a formal meeting, just a lunch, & again, it's on Friday & this is a casual office. So I didn't dress up.
What I'm wearing:
Black & white striped silk blouse, Spiegel | Black jeans, Levis | Red ankle boots with low heels, Aerosoles | Silver filigree earrings, Target | Red flower hair pin, random accessory store
Do you have "casual Fridays" at work? Or is your office casual every day?