Does anyone even get that reference anymore? Hi, I'm old. Anyway. This month's theme post from
Sophistique Noir
is rings, and oh boy, do I have a ton of those. I tried to photograph all of them & nearly gave my camera's "macro" setting a conniption fit. Sorry for a few blurry photos.
First come my costume rings. I mostly just wear these with
historical gowns
, but other than being gold, they're awfully gothic, aren't they?

Left to right: Three gold & black rings, square ring with purple stones, giant red ring, smaller gold & red ring, hand-crafted silver ring with the Seven Deadly Sins carved around the outside.
Many of my everyday rings live inside this little gold box, which I've had since I was a young girl. It's a bit tarnished & the red velvet lining is dingy, but it holds fond memories in addition to these rings.
Here are a bunch of silver rings with Celtic & Wiccan themes. Note: In the "hand" photos, rings are not always on their proper fingers, I was just trying to get decent pix!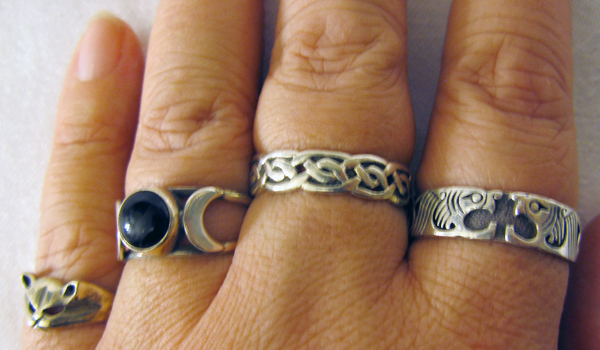 Left to right: Cat ring, onyx & crescent moon ring, Celtic knot ring, Celtic knot & beast ring.
Some rings with gemstones.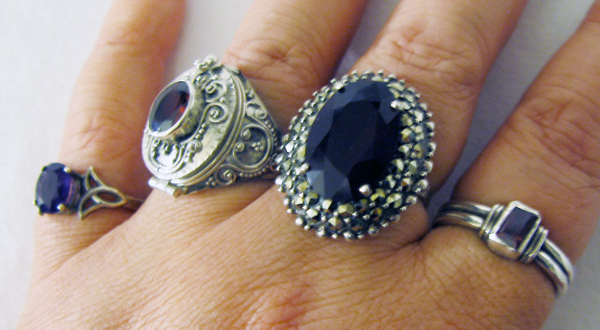 Left to right: Amethyst & Celtic knot ring, poison ring with garnet, faux ruby & marcasite ring, garnet ring.
These are a few of my most sentimental rings...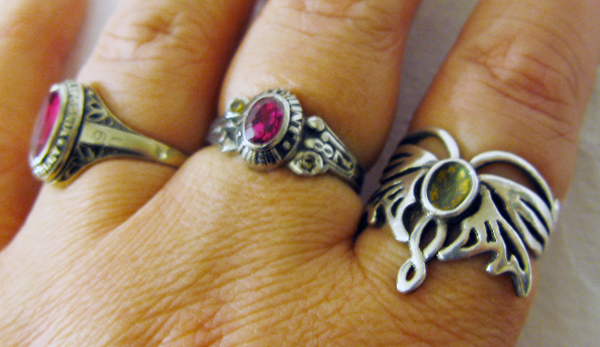 Left to right: U.C. Berkeley class of '91 ring, Westmont High School class of '87 ring, Arwen butterfly ring (missing center stone).
A couple larger black rings.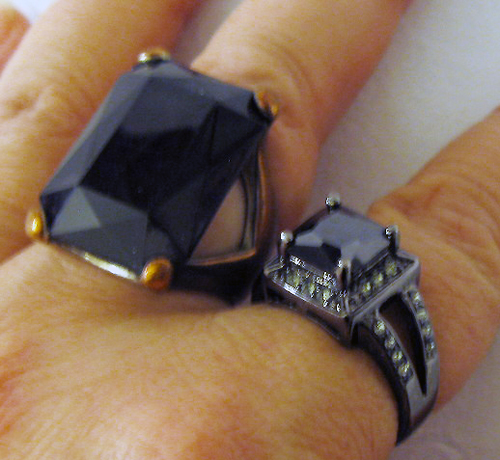 Left to right: Black glass cocktail ring, black glass & gunmetal cocktail ring.
Faux diamonds are a girls best friend! I also wear these with my 18th-century costumes.
A pretty silver ring, a gift from Kendra, bought in France.
Sparkly black cocktail ring.
Funky mod black roses ring.
An even bigger faux diamond.
And a cool black glass ring.
Finally, but not least, there's my wedding band & engagement rings, which I wear every day. At night, I keep them in a box I covered with a scrap of the contrast fabric from my
wedding gown
& inside is a little pillow made of the burgundy velvet that was the main fabric of my gown.
My wedding ring is a mix of yellow & white gold with diamond chips. My husband's band is very similar (just without the diamond bits).
My husband & I have matching engagement rings in silver with amethyst cabochon stones. We bought them at
The Great Frog
on Carnaby Street in London.
And that's pretty much every ring I own! What about you? Do you like rings? If so, I hope to see your posts on the theme.