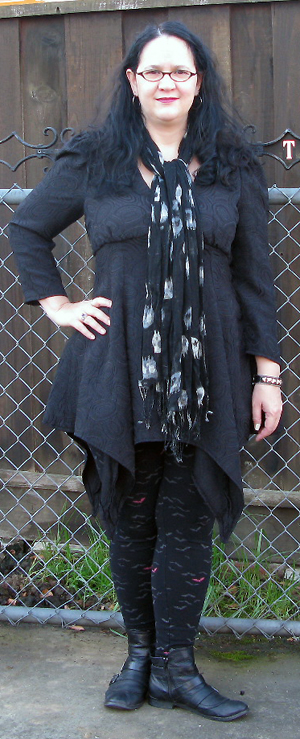 Yesterday was mostly a repeat outfit -- pixie-point tunic with leggings & ankle boots -- & I almost didn't photograph it at all. But I mixed it up a tiny bit by wearing both skull-print & bat-print.
What I'm wearing:
Black pixie-point tunic, made by Donna | Black bat-print leggings, Target | Black skull-print scarf, gift from my husband | Black buckle ankle boots, Aldo | Gunmetal hoop earrings, random accessory store | Silver Celtic ring, gift from Lisa
Coincidentally, next Monday is
Le Professeur Gothique's Monthly Homework Assignment
to wear something you haven't worn in a long time. Given that I repeat items & outfits quite frequently & make a point of trying to wear everything in my wardrobe that fits & is seasonally appropriate (even working some things in across seasons), this is going to be a tough piece of homework!