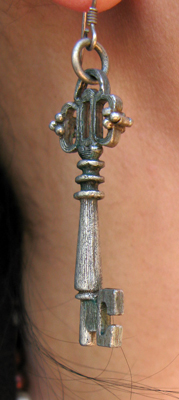 Today I'm wearing a couple pieces of jewelry that I made myself, & this reminded me that jewelry making is just a few steps advanced from repairing jewelry. And learning to repair your jewelry is a handy skill to have, so I thought I'd share a few tips...
The most common jewelry break that I've found is a pendant falling off a chain or an earring piece coming off the ear wire. What happens is that a jump ring (a small metal ring that has a break in it) that connects the pendant or earring to the chain or wire comes apart. The ring usually falls away & gets lost.
To make this repair, you'll need a tool called
needle-nose pliers
. These are not very expensive (under $10) & can be found at hardware stores & craft stores. You'll also need a new jump ring, which is not expensive either. Jump rings are sold in bags of 10 or more at craft stores & online at places like
Fire Mountain Gems
. They come in different metals & all kinds of sizes -- pick whatever matches the jewelry you're repairing. I find it's handy to have a bag of
7.5mm silver jump rings
around for future repairs.
Take a jump ring & hold it between your forefinger & thumb of one hand. Hold the pliers in your other hand, & use the pliers to gently pry open the jump ring at its break. You don't need to open it too much.
Pro tip: You can get two needle-nose pliers, & hold the jump ring in the tip of one pliers & then open the ring with the other. If you plan to make your own jewelry, you'll want to master this technique, but it's not necessary for occasional repairs.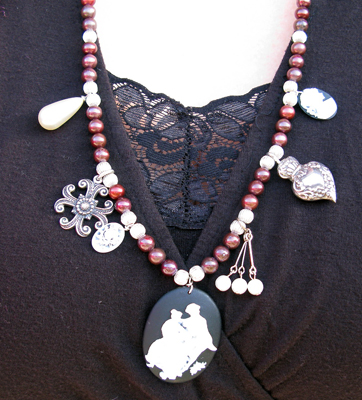 While you have the jump ring open, hook your pendant or earring onto the ring. Then hook the jump ring onto the chain or ear wire. Now, use the pliers to carefully close the jump ring back into a complete circle by pressing on the sides of the ring. You may need to press around the different sides of the ring to keep the circle nice & round while also getting that break in the ring completely closed & flat.
That's essentially it. You can start making jewelry by doing this same thing & add different pendants to chains or velvet ribbons or put charms on ear wires to make new earrings. That's the simplest form of jewelry making, but it yields tons of possibilities. You can scavenge through old, broken jewelry, or buy new charms & pendants to assemble into different combinations. Go wild!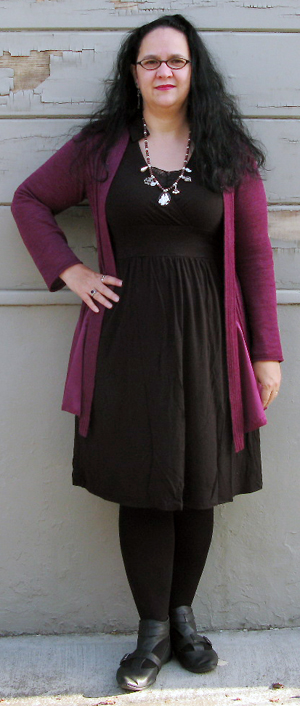 What I'm wearing today:
Black knit dress, Target | Burgundy peplum sweater, Anthropologie, gift from Sarah | Black tights, Calvin Klein | Black buckle boots, Aldo | Burgundy & silver charm necklace, made by me | Pewter key earrings, made by me | Silver & garnet ring, bought in Jaipur, India | Black knit headband, random accessory store
Do you repair or make your own jewelry? Are you interested in trying?