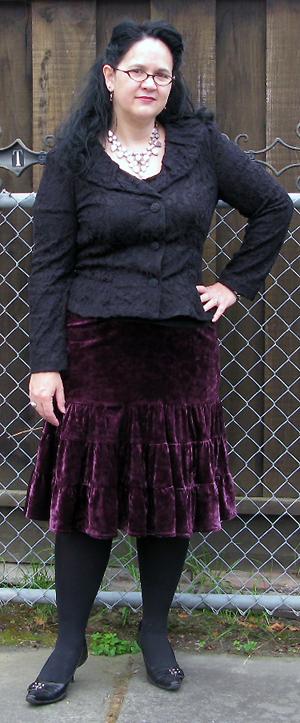 This outfit combines a lot of not typically work-friendly elements: rich velvet, dark lace, & a very sparkly necklace. Now, as I've stated frequently, I work in an extremely casual office where people wear T-shirts & jeans far, far more often than suits, so I can get away with wearing most anything I like. But, as I've also stated frequently, I prefer to project a somewhat serious professional image (mixed with a gothic aesthetic, 'natch) to back up my work credentials.
Still, how can you get away with such wacky materials & blingy accessories in a corporate-appropriate ensemble? Imo, the key is the silhouette, & that starts with the jacket. While this one is made of black lace (backed with solid black fabric), the jacket is shaped in a very traditional style. Three buttons up the front, long sleeves, portrait collar, fitted waist -- nothing too extreme, no wild details, just a classic feminine jacket. With a black pencil skirt, this would look like a fairly typical suit.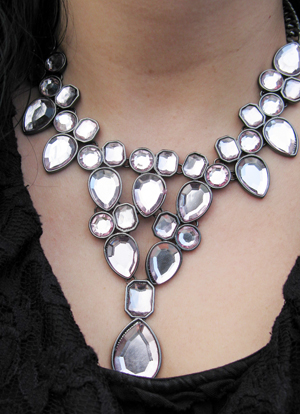 The skirt is more unusual because of the full, tiered shape. But the jacket style tones it down. Also, the plain black tights & simple black pumps further neutralize the outfit. The rhinestone necklace is pretty ostentatious, but when surrounded by all these dark colors, it gets softened a bit & becomes a smidge less loud. Notice how I went with dainty little earrings & soft brown-red lipstick so that everything else around the necklace was simple.
While I don't recommend wearing so many atypical elements together all the time (& probably not at all in a more conservative work environment), I do think it's possible to incorporate velvet, lace, & bling into office wear in a way that's appropriate yet still fun & even gothy.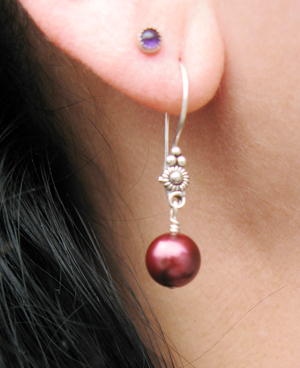 What I'm wearing:
Black lace jacket, Macy's | Black T-shirt, NY & Company | Deep purple velvet skirt, NY & Company | Black tights, Calvin Klein | Black pumps with buckle, Kenneth Cole | Pale pink rhinestone necklace, random accessory store | Burgundy pearl earrings,
Designs by Victoria
| "Raisin Rage" lipstick by Revlon
How casual or formal is your office? Can you wear things like velvet, lace, or bling without raising eyebrows?