This month's
homework from Le Professeur Gothique
is: "Feature whatever you consider your most prized possession, which can be anything and everything from articles of clothing and jewelry, to books and dolls.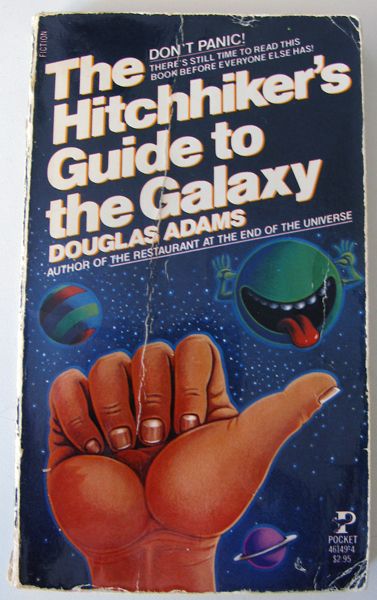 I had a hard time thinking of what my most prized possessions might be. Traditionally, you ask yourself "what would I grab if the house was on fire?" But there isn't much other than my husband & the cats. People often say they'd take their photos, but SO many of my photos are digital these days, & if they're any good, I upload them to one of my websites or at least Flickr, so in case of a fire, I'm covered. Even our
wedding photos
, well, we put the negatives in a safe-deposit box at the bank (tho' I think we lost the key, oops).
The other thing I value most is my
costumes
. But I'm at the point in my art that I feel like I could recreate any of those things, if necessary. Heck, I could probably make most of my costumes better the second time around (tho' some of the fabrics are awfully nice, & I'd be sad if they went up in smoke).
I love all the beautiful & sentimental things in my house, but frankly, every one of them could be replaced. And if that exact item couldn't be replaced, I still have the memory of it or what it meant to me -- such as souvenirs from our many wonderful
travels
, which really just served to remind me of the trip itself. The few family heirlooms we have, those are mementos of family, & we both try to remember our family all the time. If the item goes, the memory does not. The things surround me mostly for their beauty & the sentiment.
Finally, I reframed the topic as "what items do I prize most for their uniqueness & personal meaning." That lead me to these two, which may or may not be the tops of even that category, but they're what came to mind, so I'm going with it.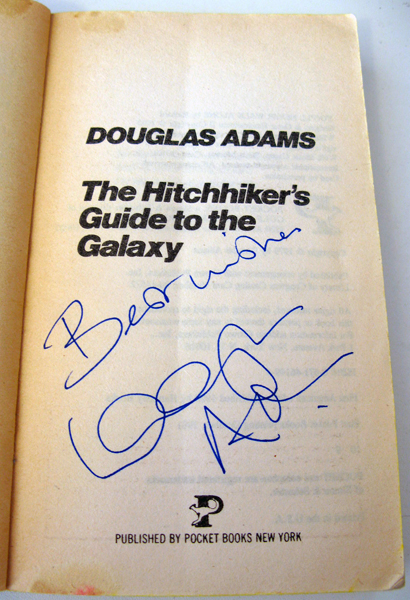 1.
Paperback copy of "The Hitchhiker's Guide to the Galaxy" signed by the author, Douglas Adams
(now deceased). This is the beat-up old book I read religiously as a 12-year-old & was beyond thrilled to have Adams sign around that time. I also had him sign a towel (because I'm a hoopy frood who knows where her towel is). However, that towel remains in a sealed bag in my mom's garage.
I don't know what I can say about this book. You either know it & love it, or you're not one of us. It's hilarious, sublime, & just freakin' brilliant. Perhaps the best description might be Monty Python in Space, but even that falls short. It has been supremely influential upon me.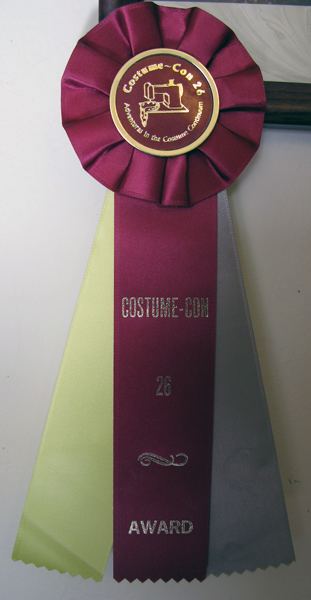 2.
The award ribbon & certificate for Best in Show at the historical masquerade of Costume-Con 26
in 2008. Eight friends, plus me & my husband, created costumes & performed as the Empress Eugenie & her maids of honor being painted by Franz Xaver Winterhalter, based on the painting of the same name. The project was several years in the making & culminated in a mere 30 seconds of stage time. But we won the biggest award of the night!
Creating the
costume
for that project pushed me waaaaay out of my comfort zone & really challenged me as a costumer. I grew as an artist & technician. Wrangling nine women who lived all over California & Nevada for several years was a huge challenge too, & the project strained friendships, but we all survived. We brought a vision to life in front of the audience, & they loved it. That was pure magic.
If we had not have won, I guess it would have still been OK. The stage show was pretty amazing. We slayed 'em! But receiving the award was perfect proof that we really did it right, we weren't fooling ourselves, other people saw what we'd achieved. So I'm very proud of this award. The certificate is framed with a photo of our group, alongside a picture of the inspiration painting, with the award ribbon hanging below. This is mounted above my sewing machine, so I will always remember how I stepped up to that challenge.