This may well be the last time I'll wear velvet to work until fall. The weather has changed a lot in the past few weeks, with very hot weekends & weeks that range from warm to sunny but breezy. Spring is rapidly changing to summer in Northern California, & velvet isn't appropriate day-wear for me. I may bring out a dress or skirt for an evening ensemble (& costumes are an entirely different story!), but no more velvet to work except in accessories. I still have velvet shoes & suchlike that could add a nice gothic flair to an office outfit.
In fact, at lunchtime, I switched this up because I got a bit warm. I took off the belt & jacket, hung up the jacket, & put the belt on over the dress. I figured if I got chilly, I could wear the jacket open over the belted dress.
What I'm wearing:
Black cotton full-skirted dress, ModCloth | Plum velvet jacket, from Lisa | Black studded belt, Macy's | Black fishnets, unknown brand | Black slingback pumps, Payless Shoe Source | Silver filigree earrings, Target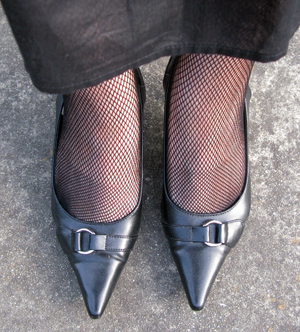 Do you dress for the seasons? Or do you dress the same all year-round?