We now interrupt this blog with a bit of hockey. See, last Saturday, my husband and I saw our beloved hometown team, the San Jose Sharks play in the NHL's Stadium Series against our hated rivals, the L.A. Kings. While our guys lost 2-1, the game was super fun because it was played outdoors at the brand-new Levi's Stadium, built for the San Francisco 49ers football team. Over 70,000 people in a gigantic arena, bright lights, fireworks, it was crazy cool!
In the week before, while the NHL was setting up the outdoor ice rink, they'd setup a webcam to record the progress. Well, a raven wandered in front of the camera and made an editorial comment, which made the rounds last week.
In the pre-game buildup, they used this clip on the Jumbotron with a "MAKE SOME NOISE" header, which was pretty funny for those of us who got the reference.
Here's a selfie of my sweetie and me with the Sharks head that the players usually skate through before each game. It was out on the concourse for fans to enjoy.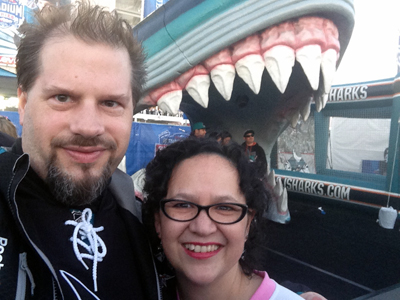 I'm not a big sports fan, but I enjoy hockey and a little college football by my alma mater. Do you follow any sports?