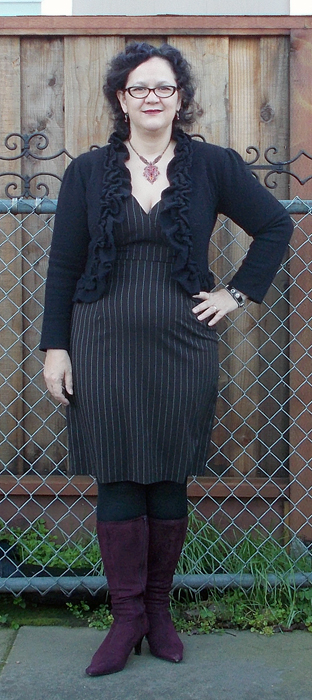 A
A guy I met once said that people like us were "of the Internet." It seemed a little cheesy, but it's true. I've been very online since the early 1990s. One of the first things I do in the morning and one of the last things I do at night is check email -- or my texts or Facebook, basically, the net.
Here's a typical morning Internet check-in... Phone (for texts; almost nobody calls me, and that's how I like it), email, Facebook (this takes a big chunk of time because I admin a couple
pages
and check on a few groups), blogs on Feedly,
Twitter
, NPR.com for news I didn't hear on NPR radio as I was getting dressed, LiveJournal (yeah, that's been de-prioritized).
I check texts, email, and Facebook throughout the day. Then I do a sweep through the above list again at lunch, during my evening commute, and at least once before bed.
Sometime in between, I do some work, eat, and sleep.
Where do you go online?
What I'm wearing:
Black pinstripe dress, made by Donna | Black ruffled wool shrug, Kohl's | Black tights, Calvin Klein | Burgundy faux-suede boots, DSW | Burgundy & brass shield necklace, local artisan | Onyx & silver earrings, bought in India