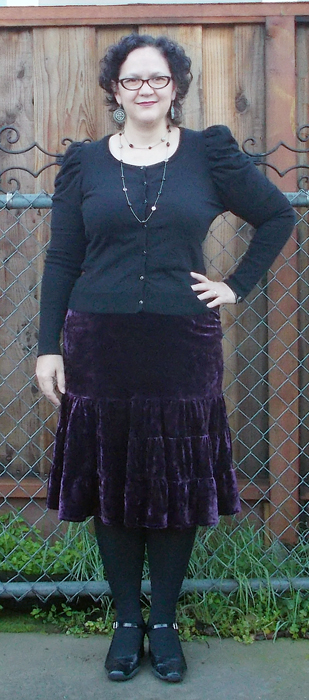 Prompt: Which movie always makes you cry?
Camelot
from 1967. The ending, in particular. I'm a big softie, plus I love musicals. And this one pushes all my buttons.
Medieval-fantasy setting? Check. Romantic-tragic story? Check. Raging idealism expressed through song? Check. I guess really, it's the movie soundtrack that makes me tear up more than anything, though the final scenes of Arthur telling the boy 'don't let it be forgot' get me right there.
So I guess I'm on a medieval kick recently. What can I say? I'm that kind of old-school goth gal! I've always preferred my modern high-tech life wrapped up in crumbling castles and draped in velvet.
Questions culled from the discontinued Writer's Block feature on LiveJournal.
What I'm wearing:
Black puff-sleeve sweater, H&M | Burgundy velvet skirt, NY & Company | Black tights, Calvin Klein | Black patent pumps, thrift store | Chain & bead necklace, random accessory store | Silver medallion earrings, random accessory store