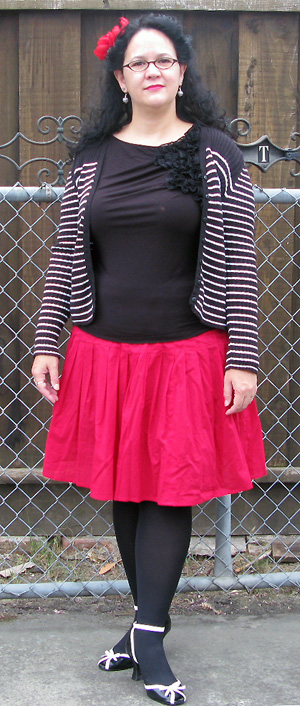 Blah blah blah. Making the best of it!
What I'm wearing:
Black T-shirt embellished with fabric roses, NY & Company | Cherry red cotton pleated skirt, Newport News | Black & white striped cardigan, Chadwicks | Black tights, Calvin Klein | Black & white ankle-strap pumps, American Eagle | Red flower hair pin, made by me | Black & white dangly bead earrings, Kohl's
I spent the weekend
sewing
in preparation for a renfaire friends & I are performing at next weekend. So all Monday, my neck and shoulders were sore whilst working at the computer. Sewing & typing don't mix, but such is my life. I foresee a heating pad in my evening plans.
How was your weekend? Have any good ideas for next weekend yet?