#2: Share photos and experiences from your BabyBat days.
(Continuing the Goth Challenge questions -- follow the tag below to see all.)
Hard to say when I was a true BabyBat, but considering I'm in my 40s now, I think any time pre-25 is "BabyBat" territory. At least that's how I look on other people (yeah, I'm crotchety that way ;-). Here's a little wacky trip thru the time machine...
I had to really hunt for photos because Back in My Day, kids didn't have tiny cameras in their pocket (aka camera phones). The first pic is from my high school yearbook, and the second is obviously my formal prom pic (don't ask me about the guy!). In later years, if I had a camera and remembered to take photos at a party, I took them of other people (I still tend to do that).
1986, on yearbook staff, apparently filing while wearing sunglasses
(much like wearing sunglasses at night). Pink vintage Chinese coat. Big hair.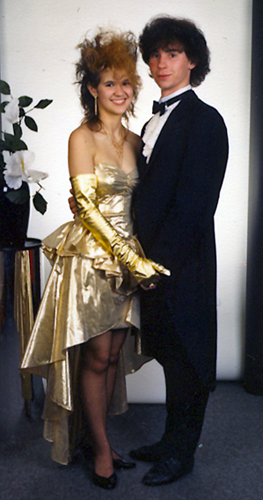 1987. Senior prom. I specifically wanted a dress like nobody else would wear.
Which I achieved.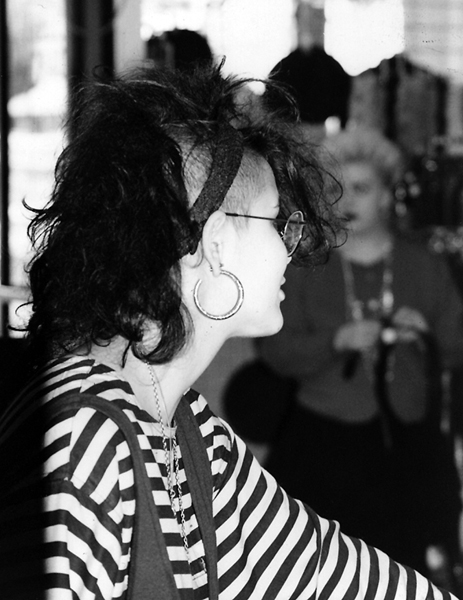 1988. Working at a second-hand clothing store in Berkeley, during college.
Started shaving half my head & would continue thru most of college.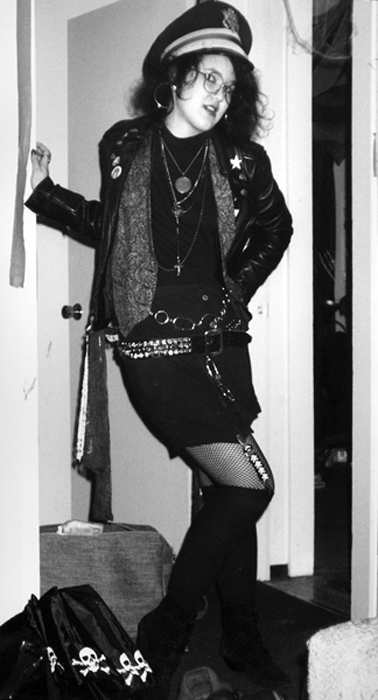 1988-89ish. "I'm not a mod, I'm not a rocker, I'm a mocker."
Bonus points if you can ID that quote.

1990. My college sorority's colors were pink & white, so I dyed pink streaks into my hair.
Gotta show spirit!
Funny, but looking back, some essential stylistic elements have not changed. I cannot resist wearing black + other bright color (like hot pink or a pattern such as stripes). I freakin' adore necklaces & hoop earrings. I'm, ehem, still fond of some height in my hair, & flat hair is the bane of my existence, even if I don't go to the extremes as I once did. I'm still a big fan of matchy-matchy (not shown in my prom picture: matching gold lame vintage purse & you prob. can't tell that all the rhinestone jewelry is *gold* rhinestones, down to the shoe clips & there's gold glitter in my hair). The more things change, the more they stay the same.