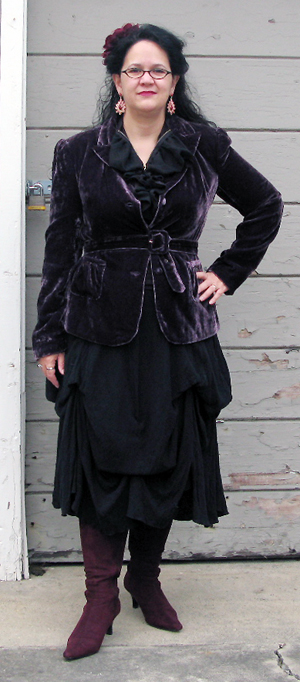 Half a day foggy, half a day sunny. That's Northern California for ya. I kept taking this jacket on and off, which I suspected would happen, and that's why I wore my favourite sleeveless top. Not generally a fan of sleeveless in the office (even tho' this is the most casual office ever), but when it has ruffles and looks this sharp, I'll accept it.
What I'm wearing:
Plum velvet jacket, gift from Lisa | Black sleeveless ruffled top, Michael by Michael Kors | Black gauze peasant skirt, Rampage
Black tights, unknown brand | Burgundy faux suede boots, DSW
Pink & gold earrings, Ruche.com | Burgundy flower hair pin, random accessory store
While it's not quite the weather for a full day of velvet, I was a bit surprised that one of my favourite sewing bloggers,
Peter of Male Pattern Boldness
, decried velvet entirely in his post today.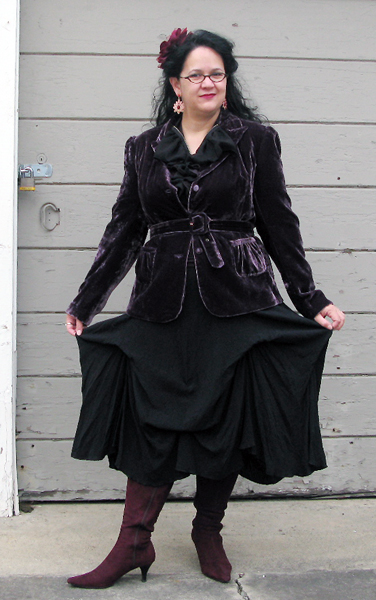 He recounted the tale of fabric shopping with one of his blog's fans, where she wanted to sew something out of velvet. First, he was horrified that she'd go against the pattern's recommended fabrics (which is silly, imo, those are just recommendations, not the gospel or something!). Next, he was horrified by the suggestion of velvet, and I quote: "Seriously, though: who wears velvet these days other than Goths and Gothic Lolitas? (And yet fabric stores are full of the stuff.) So
Phantom of the Opera
."
Obviously, us goths do wear velvet, but surely other people are too. The vast majority of my velvet clothing is from mainstream U.S. stores like Macy's, Newport News, Coldwater Creek, and NY & Company (as a rule, I do not shop from gothic brands because I find the quality low or I just don't like the designs). The places I buy velvet are making velvet garments for average American women, and velvet tends to come back in fashion most fall/winter seasons. Amirite? Yeah.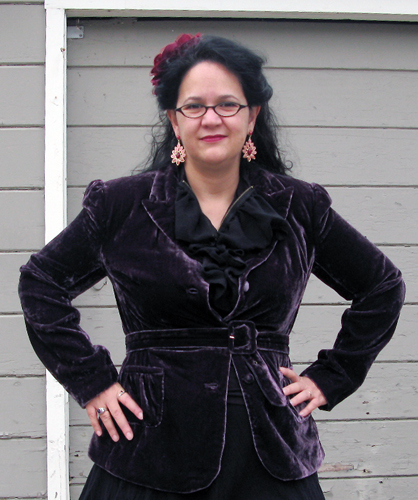 And here's just a tiny bit of proof that goths aren't the only ones who wear velvet -- two of my favorite fashion bloggers, last fall, wearing smart, sassy velvet items in their ensembles:
Sal of Already Pretty
in October 2010, and
Audi of Fashion for Nerds
in December 2010. Not a hint of
Phantom of the Opera
there.
While goths may love it, we're not the only ones. I'm a little irked at Mr. Pattern Boldness for being a bit stereotyped in his fabric associations.