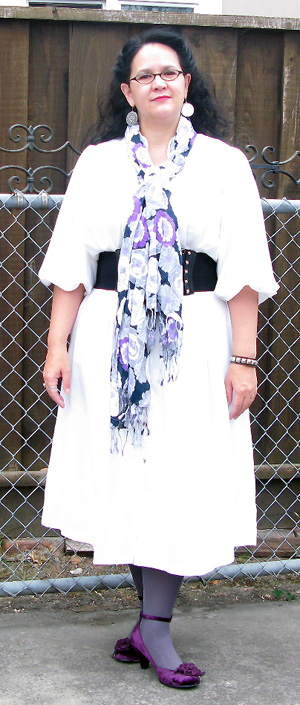 Fact: The old "don't wear white after Labor Day" rule only applied to shoes, not clothing. It probably dates to the turn of the last century (meaning the early 1900s), and, like most etiquette rules (and even sumptuary laws, much earlier), it was aimed at the nouveau riche who were trying to ape old-money fashions but, presumably, without the "taste" acquired from long-standing wealth.
I researched and wrote about the "white after Labor Day" rule many years ago for
Ask Yahoo!
, and while the links inside that article are mostly dead, the content is still accurate.
All that said, I did want to style this dress a little less summery. Even tho' the temps are still in the 80s-90s by the afternoon here...
What I'm wearing:
White cotton dress, gift from Lisa
Grey herringbone tights, Calvin Klein
Purple velvet pumps, Rocket Dog
Black corset-style belt, Torrid
Purple floral scarf, Old Navy
Silver disk earrings, random accessory store