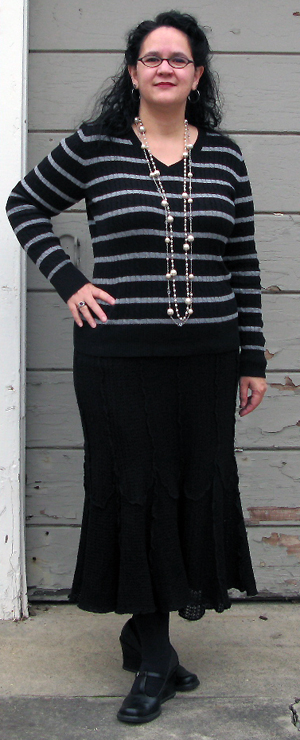 I'm wearing these necklaces as a reminder to myself that I really need to get sewing on my
12th Night gown
. See, I plan to wear one or both of these silver & pearl necklaces with said gown -- but the gown is currently just a half-completed black silk bodice with some silver lace attached & in need of 80 million miles of silver braid to be sewn on (by hand), plus, of course, sleeves & a skirt, & more trim on those.
The finished gown (if/when I finish it!) will be worn at an SCA event where one of my very best friends will receive a Major Award, so this is definitely an occasion worth dressing up for.
A few years back, I bought these necklaces with the intention of wearing them with a 16th-century gown because they are kind of like ones seen in paintings. But I had yet to actually make a gown that they'd go with. Until now! So yeah, I better get crackin' because that event is January 7th.
What I'm wearing:
Black & grey striped sweater, Target
Black crochet trumpet skirt, Coldwater Creek
Black tights, Calvin Klein
Black wedge mary-janes, Kenneth Cole Reaction, thrifted
Silver & pearl necklaces, Aldo Accessories
Gunmetal hoop earrings, random accessory store
Silver leather rose pin worn in hair, random accessory store
Revlon "Raisin Rage" lipstick