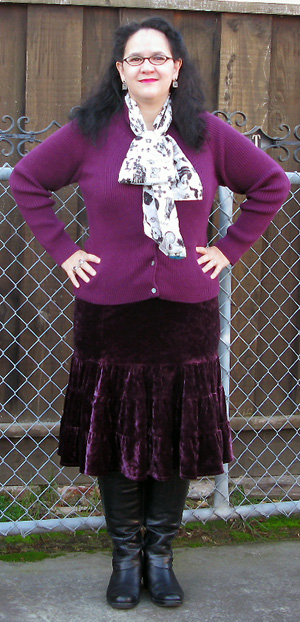 Feeling all matchy-matchy yesterday, plus I needed something cozy & warm. Temperature dropped nearly to freezing overnight, & it was rather frosty out this morning.
Not sure about tying this scarf into a bow -- it looks rather
1980s-era
Dianne Feinstein
to me. Who, as a person, I admire, but she's not exactly a style icon. My mom used to wear those floppy bows with suits too during the '80s, it was so "I'm all business, but still a
woman
!" Not sure if it looks pretty or dowdy on me, tho' I do like how it breaks up all the purple.
What I'm wearing:
Plum sweater, April Cornell, gift from Lisa
Black T-shirt, Target
Plum crushed velvet skirt, NY & Company
Black & white gothic-print silk scarf, Target
Black tights, Calvin Klein
Black tall boots, Clarks
Pewter square earrings, made by a local artist
Silver & garnet poison ring, eBay