brown paisley
wool princess-seamed
coat
several times on this blog & just once I've shown my
black suede swing coat
, but those are honestly not the coats I wear most often.
My workhorse is this black trenchcoat, which I bought in 2005 when my husband & I went to Germany & central Europe in November (easily the coldest trip we've gone on, worse than Antarctica!). This coat is impervious to rain & snow, plus it's just roomy enough to layer over sweaters, so it's perfect for really bundling up.
And it seems indestructible. I can roll it up to use as a pillow on an airplane, spread it out to become a blanket, wad it up & shove it in a bag, etc. Best of all, this is a classic coat style that goes with anything, from jeans to dresses. Everyone needs a good black trenchcoat, imnsho.
And for the bats, well, I've worn these
old-school boots
to work before. But I had a bunch of meetings, so I really wanted them to be subtle. Just peeking out from a pair of simple black trousers.
What I'm wearing today:
Black boyfriend cardigan, Chadwicks | Black & grey pinstripe long-sleeve knit top, Old Navy | Black trousers, Target | Black bat-buckle pointy-toe boots, bought from a friend | Black & grey skull-print scarf, gift from my husband | Black studded belt, Macy's | Silver medallion earrings, random accessory store | Black & gunmetal cocktail ring, Icing | Urban Decay Gash lipstick | Black trenchcoat, Burlington Coat Factory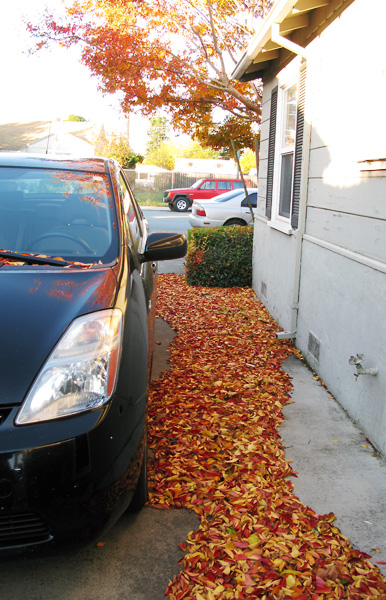 Fall has fallen!
The leaves from the trees in our front yard
blew down this week & collected in the driveway.