I finally got my act together in time to participate in Le Professeur Gothique's Monthly Homework Assignment, & December's is about comfort & joy. As
she explains
: "My assignment for you this month is to feature the ways that you, my darlings, take a well-needed TIME OUT. How do you unwind? What gets you through the holidays and exams? A bubble bath? Running five miles? A steaming bowl of chicken soup? Also, what kind of comfort clothes/accessories do you go to during this time of high stress? Do you have a favorite Woobie (sweater, scarf, blanket, etc.)? Please feature whatever it is that helps you feel well-needed COMFORT AND JOY during the season of "gimme gimme" and cranky shoppers at the mall. How do you infuse your life with the true meaning of the season -- peace, rest and reflection."
First, the comfort with a backstory ... I don't get too stressed out by the winter holiday season. I have tried & true systems for doing what needs to be done. My family & I have stripped down Xmas to what we love best -- a few gatherings to see all the people we care about (who are within about an hour's drive of each other), some good food (but nothing fancy or complicated), & a few handmade &/or charity gifts.
But what *does* stress me out is sleep! I have been an insomniac since childhood. Getting to sleep is often difficult, but sometimes sleeping thru the night is the problem. No matter what, when I don't get a full 8 to 9 hours of sleep, I am one CrankyTrystan the next day. I'm also no good at napping (when you have trouble falling asleep, napping is pointless), so I can't "catch up" on sleep in the afternoon.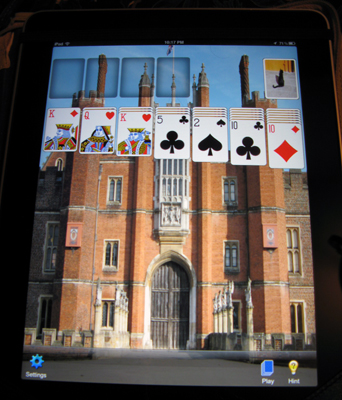 Solitaire with Hampton Court Palace
in the background
Finding things that soothe my brain into sleep-mode has been a lifelong quest. One thing that always helps is having the radio on as I'm trying to fall asleep. I particularly love listening to
NPR
, my local station
KQED
, for the news & intelligent talk shows about science or the arts or local issues. It's calming & relaxing. I not only listen to the radio live, I download NPR show podcasts to my iPod, & this year I bought a new alarm clock with an iPod dock so I can listen to recorded shows (the ones I miss while I'm at work :-). Next, I'm considering getting one of these soft fleece
sleep headphone headbands
so I can easily listen to podcasts when I wake up in the middle of the night.
An more recent addition (or maybe, addiction!) has been playing Solitaire on my iPad. Tapping out a half-dozen games is mindless but not totally mindless, just distracting enough to tease my brain away from the hamster-wheel of thoughts that can keep me awake for hours. Combine this with NPR, & I may be fast asleep in a half hour! Weird, but true.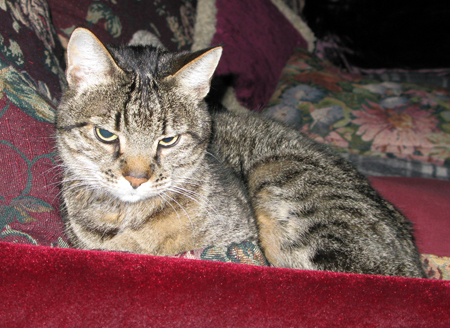 Toulouse on the couch, trying to avoid the camera
For the ultimate comfort, especially in the evening, I gotta turn to my kitties. OK, my husband is great, but the keetons are the super-cozy! Specifically, our boycat, the tabby Toulouse. We've had our girlcat Melusine, a Maine Coon mix, longer, but she's a cranky old lady (heh, like me), & let's face it, she likes to cuddle with my husband most. While Tully is my baby boy & cuddles with his momma. Awwwwwww. Pity he's not a very photogenic cat -- he shies away whenever I try to take a pic.
For a little joy, I wore these fabulous black & pink shoes today. I always feel happier wearing pink, & these shoes specifically put a spring in my step, remembering when & where I bought them, plus knowing how fantastic they look (seriously, every time I wear them, *someone* compliments them!). I can peek down at my feet throughout the day for a pick-me-up.

What I'm wearing:
Black knit dress, Target | Grey & white waterfall hoodie cardigan, Forever 21 | Pink & black stripe scarf, Express | Grey herringbone tights, Calvin Klein | Black & pink pumps, Irregular Choice, bought in London on my 40th birthday | Large silver filigree earrings, random accessory store | Grey flower hair pin, random accessory store