While life goes crazy all around. This is a very easy outfit -- soft knits, comfy sweater, laid-back accessories, simple hairdo, almost-flat shoes. Doesn't require much effort but still looks decent for the office.
Which is good because my work schedule has been insane due to the Olympics (I'm editing
anything Olympics-related
for the duration), plus I'm trying to squeeze in a trip to my beloved annual
costume conference
, where I'll be teaching a
hands-on class
, meanwhile our house is being painted & a window's being repaired & these relatively minor disturbances have set off our older cat into a fury of messy protestations.
Oh, & while you'd think this stuff would end after August 12, nope, I'm sewing some (simple) garments for the incoming Queen of the West in the SCA, which she needs mid-August, & helping plan a huge theme party for the end of August. And then it's on to September & October's mayhem of several renfaires for the
Venetian courtesan group
I've started performing with, so that requires mucho practice & some refinement of my costume (especially the hair). Finally, in early November, I'm running a huge
educational conference
for the SCA which includes a historical feast with performances. And new costumes for myself & my husband. Whew.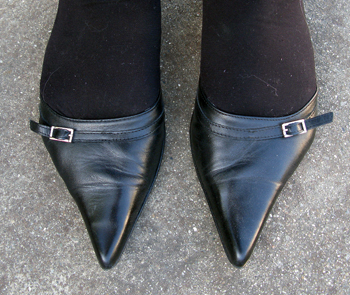 Yeah, no rest for the wicked, that's my motto ;-)
What I'm wearing:
Black knit dress, Target
Black & white striped sweater, Chadwicks
Black with grey skulls scarf, gift from my husband
Black tights, Calvin Klein
Black kitten-heel shoes with tiny buckles, Aldo
Black & white striped dangle earrings, Kohl's