Close followers of this blog (are you out there?) might notice that photos show me wearing tights, sweaters, jackets, & such, even tho' it's almost June and summer on it's way in the Northern Hemisphere. In fact, Silicon Valley has experienced a number of mini-heat waves recently, with 90-degree temperatures. But I keep wearing cardigans & blazers, along with tights.
Sure, part of it is the goth thing -- I wear black tights year round. But mostly, it's because my new job's office building is COLD!!! Classic corporate overly air conditioned. Worse than most places I've worked. I rarely take my sweater or jacket off when I'm inside.
Do you work in a building with a totally different temperature than outdoors? How do you cope?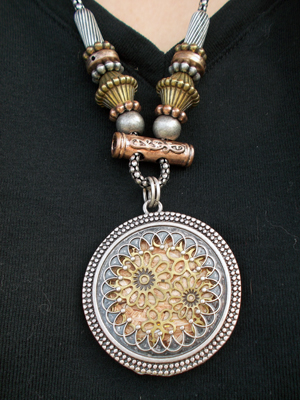 What I'm wearing: Black & white stripe knit jacket, Nordstrom | Black T-shirt, Old Navy | Grey corduroy skirt, Newport News | Black tights, Calvin Klein | Black wedge T-strap shoes, Kenneth Cole | Pewter & brass necklace, local artisan