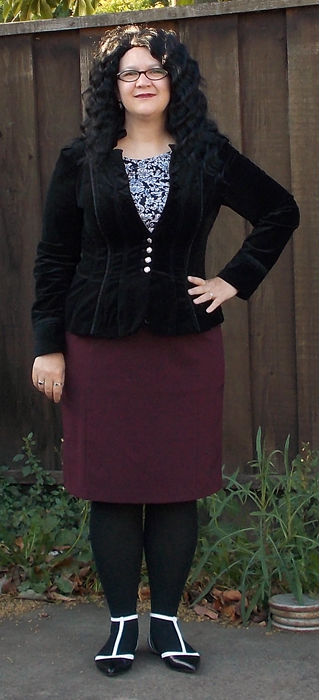 Did you know I've run a little site called
Gothic Martha Stewart
since about 1997? It's predicated on the idea of 'what if Martha Stewart did projects in goth themes & colors.' For a change of pace, I thought I'd share some of my favorite GMS projects over here. Such as...
Stamping Velvet
This is an easy technique you can use to decorate fabric for garments or home decor items. You can even stamp ready-made clothing, just as long as the item is loose enough to get an iron at & there aren't many seams in the way.
The only special item you'll need is a rubber stamp with a large, chunky design. Everything else you probably have around the house, such as an iron, a spray bottle, and a heavy hard-back book.
Follow the instructions in the
complete tutorial
, & get creative! This is easy to do for a scarf or bag, but stamped designs would be a lovely accent on a straight skirt or a flat portion of a jacket (think lapels, pockets, or center back).
What I'm wearing:
Black velveteen jacket, White House Black Market | Black & white damask knit top, Speigel | Burgundy skirt, NY & Company | Black tights, Calvin Klein | Black & white T-strap flats, Nine West | Garnet drop earrings, London National Museum