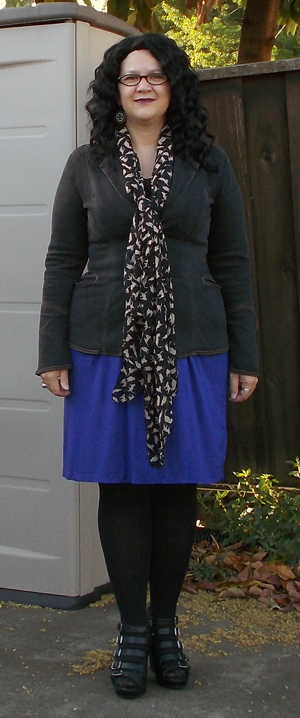 1. What job do you have and why do you like/hate it?
I'm a writer & editor for an ecommerce website. Since I started recently, I can't say too much about like/hate yet -- I like the job so far, good people, challenging tasks. I'm not thrilled that I can't work from home like I used to tho'.
2. What did you want to be when you "grew up" as a kid?
When I was a little girl, I wanted to be a stewardess for National Airlines. Not a "flight attendant," that didn't exist yet. And National was the only airline that flew direct from the SF Bay Area to Pensacola, Florida, where my grandparents lived. At some point I discovered you have to be a certain height to be a stewardess, which busted my dreams right there.
3. Is the job you have now, anything like what you imagined as a kid?
Considering the Web didn't exist when I was a kid, no. But when I was a teenager, I thought, hey, it might be cool to write for newspapers & magazines (bec. I knew I hated writing fiction), so this kinda comes close.
4. Do you have a 5 year career plan?
No. I have a points in the past, & they didn't pan out like I wanted. So I'm keeping my options open for now.
5. What's your dream job?
At this point in my life, I'm not sure what my "dream job" is, if it exists in reality, or if it's simply not having a job & being able to volunteer for things that matter to me without worrying about money at all. I'd love to study & research historical topics for a few months, then work with children's theater, then work at an animal shelter, then start all over again, all while writing & publishing quirky blogs. That'd be pretty dreamy.
Questions culled from The Friday Five on LiveJournal.
What I'm wearing: Blue knit dress, Ruche | Black camisole, Old Navy | Dark grey denim blazer with belled cuffs, Newport News | Black & white cat-print scarf, gift from my husband | Black tights, Calvin Klein | Black buckled wedge shoes, Kohl's | Silver medallion earrings, random accessory store