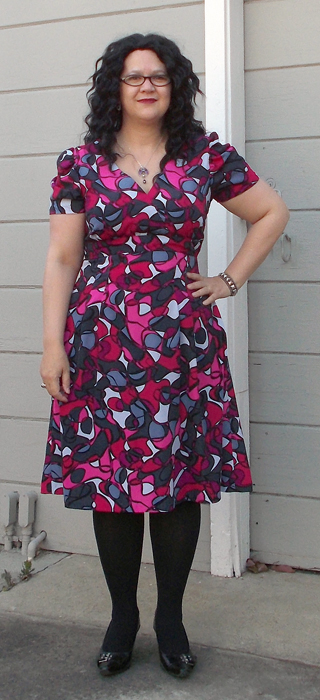 Years ago ... a late afternoon sitting in a café in the Marais, a rather trendy area, as evidenced by the increased amount of leather and hair gel. Waiters in crisp white shirts and formal vests leisurely bring coffee to the people who crowd the tiny row of sidewalk tables on this very narrow Medieval street. Pouty boys with collar-length locks walk by. Unconsciously elegant women pause at the bath goods shop across the way. Two elderly gentlemen in berets chat on the corner. Dyed-orange-haired scenesters on cell phones stride confidently to their next tryst or business meeting or to buy fresh bread for dinner.
Shiny brass letters on a 500-year-old stone wall proclaim "patissier" and promise sweet heaven inside. Walk past any boulangerie and you don't need a sign to know everything inside is no more than an hour old.
The woman with long frizzy hair in a beautifully tailored black jacket hands a ruby sweater over the counter at Feinturerie du Temple. The driver of Taxi Parisian bobs his head to music that's drowned out by the low rumble of too many cars crammed into the slim street. A beautiful man with shoulder-grazing curly black hair and a vivid red scarf tastes his sticky patissier purchase.
Across the street, behind us, a bored shop girl with a thick blonde ponytail flips through a fashion magazine, perhaps dreaming of her own pretty self on the runway. I know what makes a French woman or man truly beautiful -- it's the thick, dark eyelashes and mysterious narrow brows. They frame the eyes and add depth of expression. Mascara is wholly unnecessary for these natural beauties.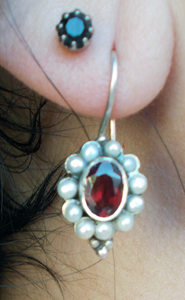 Older gentlemen are the finest dressed of all. Exquisitely tailored three-piece suits in charcoal or black with lush silk ties in peacock colors or cloud-like pastels, sharp and perfectly kempt leather dress shoes, a wool greatcoat, a jaunty scarf, sometimes even a dashing cane, for both support and effect.
Ancient arched doorways, thin streets between tall buildings that block out the March sun, tiny café tables with chairs brazenly facing the street, leather blazers, labret piercings, motorcycles and scooters everywhere, mussed ponytails on women, short Caesar cuts and sideburns on men, every other person leading a very pampered little dog on a leash (yes, there really are more poodles here), cell phones, baguettes, dark sunglasses, cigarettes at every lip and clouds of blue smoke.
Those were the streets of Paris.
--from A la Mode in the Marais District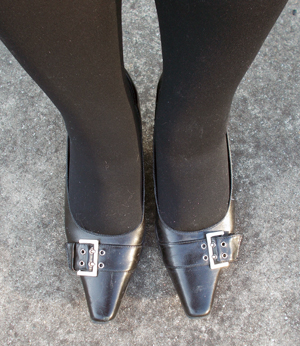 What I'm wearing: Black, pink, grey & white print dress, made by Donna | Black tights, Calvin Klein | Black pumps with silver buckles, Kenneth Cole | Silver & amethyst bat necklace, Jewels by Olivia | Garnet & pearl earrings, London National Museum