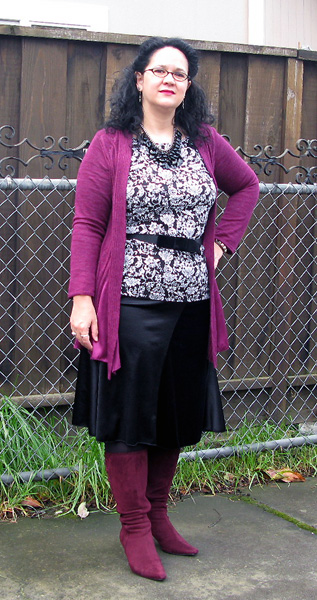 I dropped my silver Celtic knot ring down behind or underneath a dresser in the bedroom this morning & have to fish it out at some point when I have more time. Couldn't reach it before work & won't have time tonight because I have to pack, as I'm leaving for Colonial Williamsburg early tomorrow!
Yep, I'm off again. This time, it's for a conference on 18th-century clothing accessories, preceded by a few days of costumed madness with my pals
Kendra
&
Sarah
& others.We've done
this kind of thing before
, only without the excuse of an academic gathering.
Now I have to pack both huge, elaborate costumes *and* modern clothes suitable for attending lectures & workshops. Oi! I'll let ya know how that goes in a week or so. And that's about when I'll be able to hunt for the missing ring.
What I'm wearing:
Burgundy flutter-hem sweater, Anthropologie, gift from Sarah
Black & white damask-print knit top, Speigel
Black velvet & satin swirled skirt, unknown brand
Black tights, unknown brand
Burgundy faux suede boots, DSW
Black bead bib necklace, Torrid
Black w/inset cross earrings, vintage
Chanel Vamp lipstick