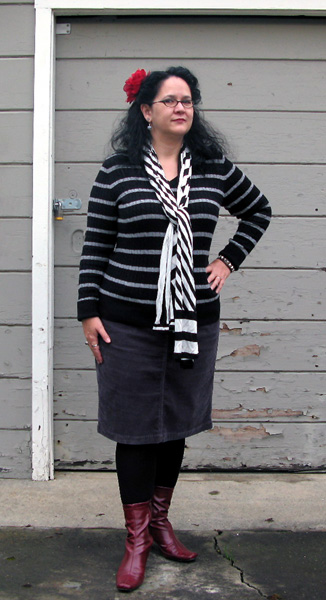 Grey, drizzly Monday called for grey stripes. That's how I roll! (Oh & I realized far, far too late that this outfit is almost an
exact repeat
of one I wore early on in the blog. Clearly, I liked it :-)
What I'm wearing:
Black & grey striped sweater, Target
Grey corduroy skirt, Newport News
Black tights, Calvin Klein
Red ankle boots, Aerosoles
Black & white stripey scarf, Forever 21
Black & white stripey ball earrings, Kohl's
Red flower hair pin, Icing
Raisin Rage lipstick, Revlon
Looking through my wardrobe & cataloging my stripey garments, I realized most of them are sweaters, especially cardigans. This could be because I have something of a sweater addiction (clearly, part of me was meant to live in foggy London, not [usually] sunny California, or I'm just addicted to NorCal's too-short fall & spring).
I've recently bought quite a few stripey
scarves
. I have a couple almost-identical striped silk
blouses
. I have only two striped jackets --
one very fancy
, one super casual. I have loads of stripey Ts, both short & long sleeved. But I have absolutely no striped bottom wear nor dresses! I used to have a pinstriped trousers, but they don't fit anymore, & I know I have owned pinstriped skirts in the past (prob. several sizes ago or perhaps some unfortunate poor cut or shape). I do, of course, have a fair number of stripey
tights
, as every good goth gal does.
Bits of these will make appearances this week. Not sure which yet!
More about
Stripes Week here
.