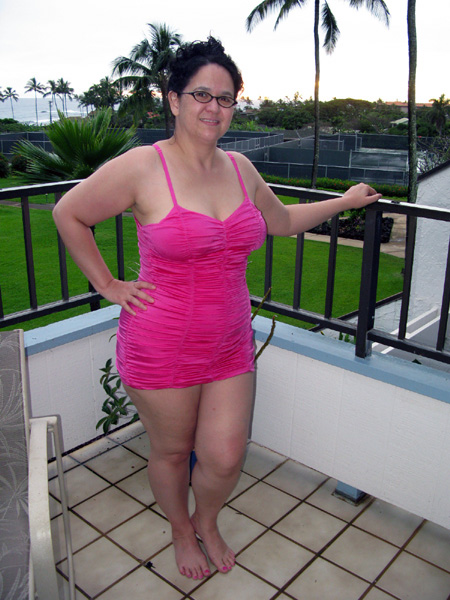 My name is Trystan, I'm 42 years old, I'm 5' 2" tall, & I currently weigh about 180 pounds. By some (
rather questionably scientifically sound
) measures, that means I'm
obese
. But by other measures, I'm pretty darn average. Yet you wouldn't know it if you looked in American mass media.
So I'm posting these swimsuit photos from my recent Kauai trip to show what a curvy -- perhaps even fat! -- woman like me really looks like (maybe I should submit one of these to the
BMI Project
on Flickr, which is a lovely dose of reality).
An
L.A. Times
article from 2009 claims that an average American woman is "162.9 pounds and wears a size 14." This seems to be a riff on the
U.S. Center for Disease Control
stats that states the average American woman's weight is 164.7 pounds and waist measurement is 37". At an average height of 63.8", this U.S. lady is firmly in the "overweight" category on the BMI scale (of course, that measurement is
highly suspect
).
My point being, I'm about 20 pounds over average & an inch short, but I typically wear that standard size 14 (and 12s and 16s, along with "mediums" & "larges" as long as they aren't in the juniors section).
And I don't care about any of these numbers, & neither should you.
Really, size is just a number, a totally arbitrary number. The numbers on the scale are just numbers, & the BMI is just a number dreamed up by a Belgian insurance adjuster 200 years ago. Clothing sizes are rather arbitrary & vary from manufacturer to manufacturer. Each designer has their own "fit model" with different physical proportions that are based in some fantasy land of who that designer wishes would buy their products. None of these (or other) numbers should not dictate how you feel about yourself.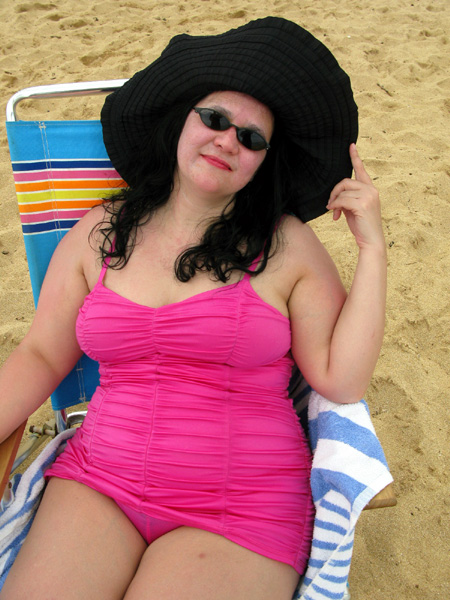 I can enjoy the beach & the sun (hush, goths are allowed to enjoy the sun -- that's what 100+ sunblock is for!), regardless of my size. The sand feels just as ticklish beneath my feet, the waves are as delicious against my skin, the sea breezes are as delightful on my face & hair.
Women shouldn't shun swimsuits if they don't look like fashion models or celebrities. There's a whole industry designed to make women freak out about "swimsuit season" & force us to go on crazy "bikini body" diets to lose some unrealistic number of pounds in an equally unrealistic number of days before hitting the beach. Fie on that nonsense, I say, fie!
I've been to beaches in Florida (where I was born), two Hawaiian islands, Jamaica, the Bahamas, Rio de Janeiro, & random parts of the U.S. that I can't exactly remember right now. None of these beaches had posted size limits or signs saying "you must be this thin to show your body here."
In fact, when I went to Rio, I was amazed & felt liberated to see large, voluptuous women, easily twice my size wearing thong bikinis & high heels, strutting down the Copacabana. These sassy women of substance had, I kid you not, scads of young, bronzed men following them like puppy dogs.
It's all about attitude, ladies. If you feel comfortable in your own body, you will exude confidence & sex appeal, & everyone else will feel it too.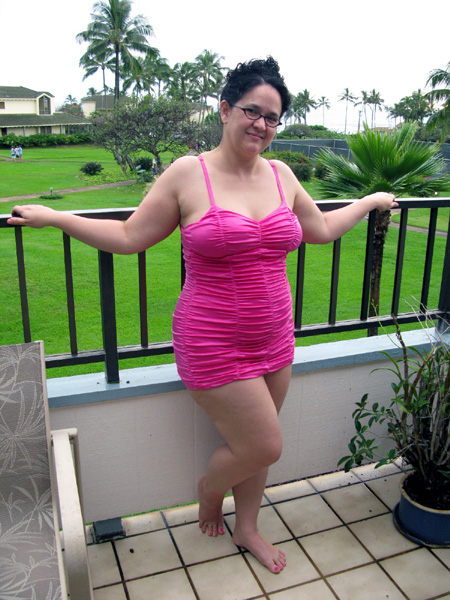 Swimsuits will be hitting the stores any minute now in the U.S. (even if temperatures are too chilly to contemplate swimming -- but that's how retail works ;-). You'll have the best selection of styles & sizes between now & Memorial Day. So get out there & try some on. Don't let the fashion magazines scare you into thinking you have to wait until you lose X number of pounds or some other BS.
Live life in the now, love the body you have, enjoy the sun & soak up a little healthy vitamin D this year.
Check out these awesome swimsuits online:
Pinupgirl Clothing swimsuits
(where mine is from!)
RetroDress Esther Williams swimsuits
Shabby Apple retro-styled suits & tankinis
Spiegel swimwear, many styles
Newport News swim shop
(great for mix & match two-pieces)