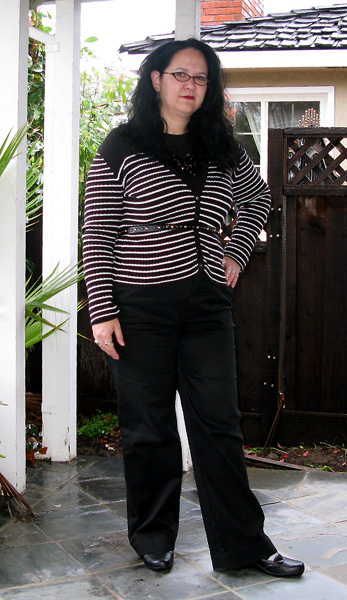 Rain has been pouring down on NorCal, plus I had a couple hours of training sessions at work today, so I opted for a super-comfy outfit. But still, stripes down to my toes.
What I'm wearing:
Black & white stripey cardigan, Speigel
Black long-sleeve knit top, Old Navy
Black trousers, Target
Black & white stripey socks, Target
Black wedge pumps, Dockers
Black & white stripey ball earrings, Kohl's
Black waterfall bead bib necklace, Torrid
Reddish-brown lipstick, Lorac
Alas, my carpool driver for Thursday canceled this evening, so I'm working from home tomorrow & will miss my last workday of
Stripes Week
! But thanks to Megan Mae for organizing it, this was a fun challenge. I'll follow up with my last outfit (already planned) next Monday. And, of course, I always wear some stripes, so there's more down the road.