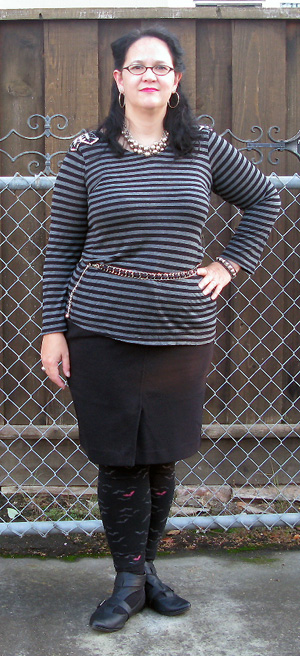 I don't know why, but I think Tuesdays deserve to be extra-casual. Mondays start off the work week, so they require a proper dress-up, dive in, let's show 'em how it's done sort of outfit. Besides, I have meetings on Mondays, and that requires something that looks good.
But by Tuesday, the reality of the week has sunk in, and that tiny bit of bravado about "I'm going to get it all done!" has worn off. I'm staring the giant to-do list in the face, and it ain't pretty. This calls for comfy clothes.
What I'm wearing:
Black & grey stripey tunic with sequin epaulets, Macy's | Black knit skirt, Target | Black bat-print leggings, Target | Chain & ribbon belt, eBay | Black ankle boots, Aldo | Silver chunky bead choker, Target | Silver hoop earrings, random accessory store
In about 10 days, I'm leaving for Spain. This weekend, I'm performing at a Renaissance faire with a new group (tho' made of people who I've known for ages). In between all of this, I have two major medical tests that may help with my ongoing chronic condition. Right after I return from Spain, I'm running a major volunteer event.
It's a little bit busy around here, mostly in good ways, but still. You can see the desire for comfy clothes!