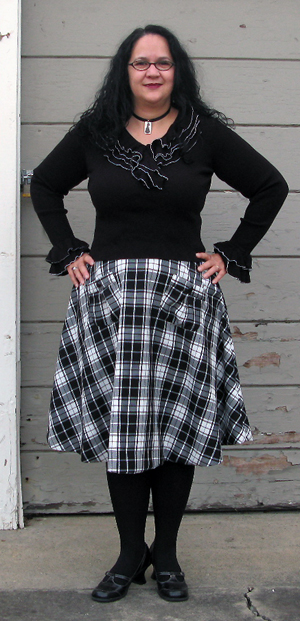 Plus a haircut, finally. Remember my
bad hair day
recently? Well no more complaining -- I got a nice trim this weekend, and while it's probably hard to tell in pictures, the cut really helps make my hair more manageable. Just a few inches off and a little bit of shaping, and I love it.
What I'm wearing:
Black sweater with ruffled collar and cuffs, Newport News
Black & white plaid skirt, made by Donna
Black tights, Calvin Klein
Silhouette pendant on silk ribbon, gift from Kendra
Gunmetal & rhinestone hoop earrings, NY & Co.
Round-toe pumps, Target
Also, my tripod is getting pretty crooked. Not sure why, but it refuses to stand straight, and I end up fixing the problem in PhotoShop afterwards. Weird.