This month's
homework from Le Professeur Gothique
* was "create an outfit, meal, photo shoot, art work, etc. based on your most favorite piece of visual art or your favorite artist." Oft beloved among goths with a Victorian aesthetic are the Pre-Raphaelites, a group of 19th-century painters & poets founded by Dante Gabriel Rossetti & friends. They are a favorite artistic movement of mine too, particularly because of how they rebelled against the "modernity" of the Industrial Revolution.
In some ways, the Pre-Raphaelites are the anti-steampunks -- where the current steampunk trend celebrates the retro machinery, gears, goggles, & steam that powered Victorian concepts of progress, the Pre-Raphs despised all of that & harkened back to a supposedly simpler time, where individual artisans hand-crafted everything. While the 19th century was a time of railroads & factories, the Pre-Raphaelites longed for more pastoral scenes. In an era of rapid scientific advancement, these artists placed emotional response & expression of creative ideas foremost. All of this is reflected in Pre-Raphaelite paintings with visions of King Arthur's court, the Lady of Shallot, Romeo & Juliet, nymphs & satyrs, Dante & Beatrice, & other scenes from a rose-colored past.
Even the clothing imagery of the movement rejects the dominant Victorian paradigm. Pre-Raphs depict people, especially women, in long, flowing gowns of a vaguely medieval style, which is in direct contrast to the highly structured corsets & hoops or bustles of the time or even men's stiff suits. The ideal Pre-Raphaelite women wore long, luxurious hair flowing in the wind instead of the tightly curled, padded, & restrained hairstyles of proper Victorian ladies.
The official Pre-Raphaelite Brotherhood only lasted from 1848 to about 1860, but the artistic influence lasted up until World War I in Britain. In fact, my favorite artist John William Waterhouse painted most of his major works in the early 20th century. I also love Edward Burne-Jones, who was a later Pre-Raph painter. The movement's connection to nature had a strong influence on the next great style Art Nouveau in the 1910s, which I'm quite fond of too.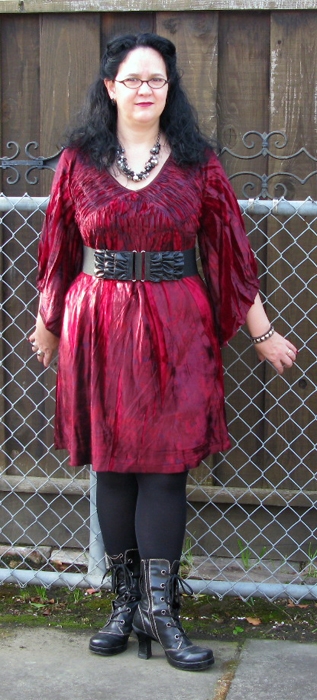 Today's outfit is about as far as I could go with an office-friendly Pre-Raphaelite look -- conveniently, this dress just arrived in the mail! I bought it with a gift card I got for my birthday from my mother-in-law. Not sure if I'll wear it to work often, certainly not if I have meetings. This is a bit too casual, imo (yeah yeah, I work in a casual office, but this doesn't suit my work persona ;-). It'll be a fun dress for hanging out with friends & my hubbi.
And coincidentally, my nails almost match the dress. I'd painted them before attending a costume event this weekend without even looking at this dress.
What I'm wearing:
Red crushed velvet dress, Macy's | Black elastic belt, NY & Company | Black tights, Calvin Klein | Black lace-up, spool-heel boots, Target | Black, pearl, & crystal necklace, random accessory store | Jet hoop earrings, random accessory store | Silver & garnet poison ring, eBay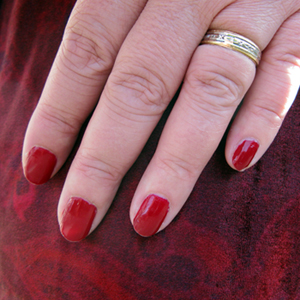 *Yes, I'm turning in my homework late. Again. Let's just all agree that I'm getting a "C" this semester! My post-post-graduate work is totally on the back-burner compared to office work & other hobbies, sorry ;-)