As I mentioned, I didn't make it very long without shopping for clothes. I lasted through all of January, but then, bam, February came & there I went. Even before I hit the mall, I had done some online shopping.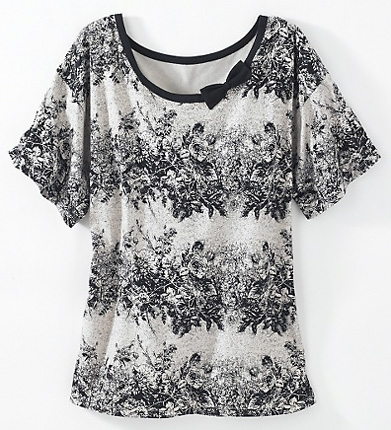 I was thinking about casual clothes, as one does, specifically, how sloppy I dress when I'm not going into the office. Working from home, ok, sure, yoga pants & a black T-shirt, that's fine every so often. But my weekend wear is pretty sorry.
About five years ago, I did make the break from jeans &
teenager-style T-shirts
(mostly). I weeded out all the gothy band tees & cutesy saying tees. I even ditched most of the old travel T-shirts I'd collected. And out went of the freebie tech T-shirts from work & conferences, 'cept for one or two to sleep in ONLY. I replaced all those with simple "grown-up" solid-color knit tops in short & long-sleeve varieties.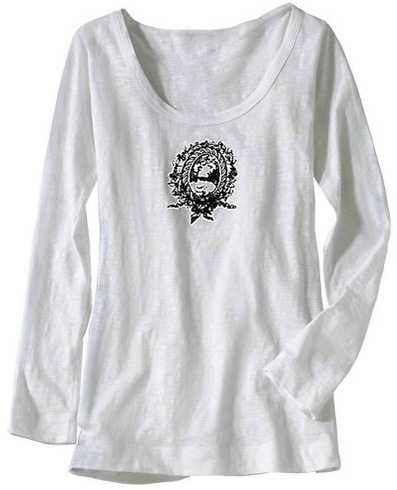 Of course, that felt boring. And the cutesy T-shirts crept back in, along with me just generally not giving a crap on weekends.
So, I'm on a renewed mission to stop looking like a slob on weekends, but also not look like a teenager, & that means I need a few things. Not a lot of stuff, just a few tops-that-aren't-T-shirts-but-aren't-dull. Because I can always wear leggings or the
cute black jeans
I stocked up on already. Plus, I wanted to do so on a budget -- can't go crazy given the attempt to not buy stuff in the first place.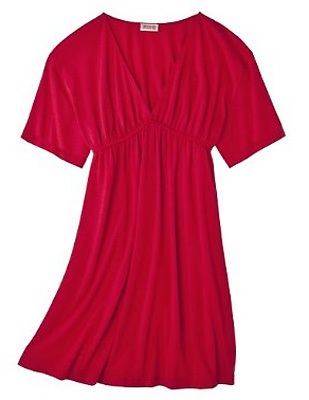 Luckily, my faves Newport News & Target both had some deals. I found two white & black knit tops (pictured here) with a little romanti-goth flair in the clearance section of Newport News' site. These should go well with black jeans, maybe a cardigan (could be dressed up for work too).
Target had quite a few little knit dresses (similar to the
black one
I already have), so I got one in red. Good for layering with black, 'natch. Also picked up a black cotton tunic that should be spiffy with a belt & leggings &/or a skirt.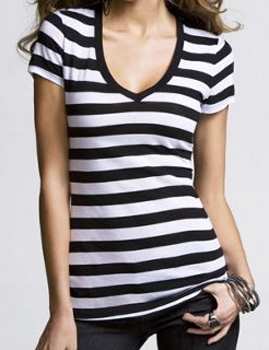 At the mall, I found a few more basics at Old Navy (one can never have enough black tees & camis), plus a couple scarves that could work for casual or work. New York & Co. had a few more solid-colored knit tops & these have froofy embellishments (buy one, get the other 50% off), so that's something less-than-boring.
But Express was where I got the gem -- this black & white stripey tee, which seems so simple, but is really an ideal CasualGoth look. On petite moi, it's rather long, almost a tunic, which instead of being a design flaw, makes it more flexible. I immediately wore it layered over a cami & with jeans, but I could see wearing it with leggings & belt & a maybe even a cardigan too.
And then I went kinda nuts on accessories. Perhaps it's because I've been catching up on the first few episodes of the latest "Ru-Paul's Drag Race" -- I bought a bunch of giant cocktail rings & flashy bib necklaces & flower hair pins. Plus a wide black corset belt. My inner diva is happy.
Got any casualwear style tips to share? What do you wear on the weekends?