two print sundresses
Next week, my husband & I are going to the island of Kauai in Hawaii to celebrate my 42nd birthday. This will be at least our fourth time there. We've also been to
Jamaica
three times (for our honeymoon & two anniversaries). Yes, you heard this right: I'm a gothic girl who vacations in the tropics.
Now, that's not the only kind of vacation I enjoy -- most of our
trips
are to
Europe
or somewhere
exotic
(we've set foot on every continent including
Antarctica
). But I have no fear of losing goth cred by admitting that I enjoy surf & sun & fruity rum drinks. Besides, I know I'm
not the only one
anymore. Maybe I started a
trend
...
Anyway, I have to plan my packing list this weekend, as there's lots to do during the short work week before we leave. So I thought I'd share some of my packing strategies, since it's fashiony & kind of on-topic.

black tribal-tropical choker
First, because I travel a lot, I have a standard packing list saved on my iPhone in a notes app. I reuse this list over & over again, changing the details to fit each trip (& I save every version to refer back to). The stuff that never changes are the toileteries, makeup, purse, & carry-on bag items.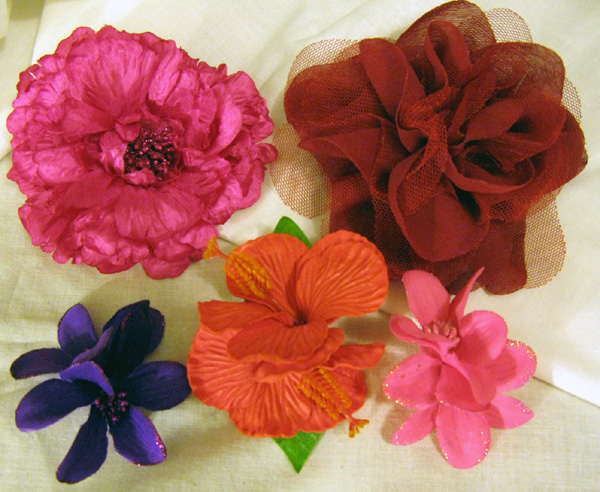 gotta put a flower in your hair
Oh, I should mention, I am NOT one of those people who believes in only packing what you carry onto the plane. Madness, I say! Sure, pack light, but you gain very little by taking only what you can shove into the overhead compartment & lose a lot. Take with you on the plane only the things you actually need to amuse & comfort you while you are on the plane. This will make the boarding, flying, & off-loading experience faster, easier, & more pleasant for you & those around you. Honestly, you'll save more time there than you might "waste" in baggage claim. Flying can be a very stressful experience, & I prefer to make the part on the airplane simple & smooth. The part in the airport is usually the least stressful -- after all, you can get up & move away from all those screaming kids ;-)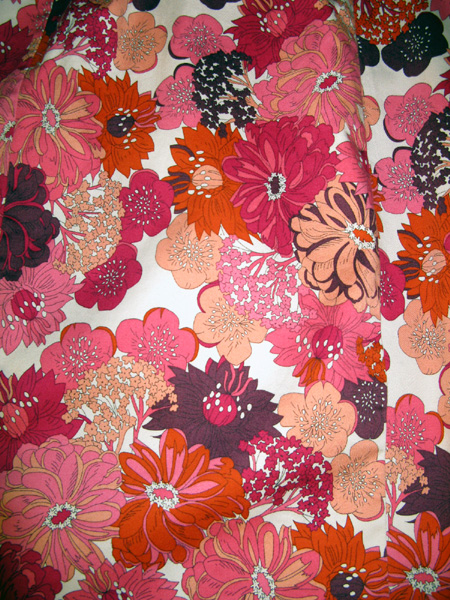 Liberty of London for Target
print sundress
Enough of my rant. Back to packing. I keep an
Eagle Creek Wallaby toiletries bag
permanently packed with everything I need, year-round. Just refill shampoo & conditioner bottles after each trip. Btw, if you haven't tried the
no-poo or low-poo method
for treating your hair, give it a whirl at least a month before traveling. I find it works pretty well for my wavy hair & oily scalp, plus it cuts down on resources needed. I only have to thoroughly shampoo every 3-4 days because I use a lot of styling products (because I like fancy 'dos; but I do less of that when traveling).
For makeup, I bring 3 lipsticks, 2 eyeshadows, black eyeliner, & mascara, plus a travel-size, refillable container of baby wipes for removing makeup. I have yet to find a makeup remover that works as well as generic baby wipes, particularly for eye makeup. It's probably not the most eco-friendly (real cotton balls & some kind of cleanser would be), but when it works...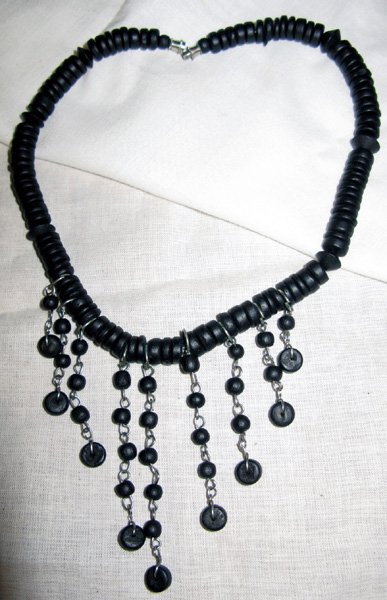 necklace from Jamaica
For jewelry, I tend to bring just one pair of earrings & one necklace, other than what I wear on the plane (e.g., my
everyday stuff
). I may also add one or two hair thingies, like a flower pin or headband, plus clips to vary my hairstyle a bit. Now, on this trip, I *am* bringing my collection of tropical jewelry, mostly purchased on past Hawaiian/Jamaican visits. Plus tropical hair flowers!
But what about the clothes? That's pretty darn simple. For a trip of a week or more, I pack 3 bottoms (a mix of pants & skirts, depending on climate & what I currently have) & 4 tops, plus one or two jacket/cardigans & one dress. Colors are predominately black + one accent. And I bring just two pairs of shoes, one boots, one flats. Every top has to coordinate with at least two bottoms, if not all of them (which is easy since the bottoms tend to all be black). The dress must go with the jacket/cardigans, & the shoes go with everything.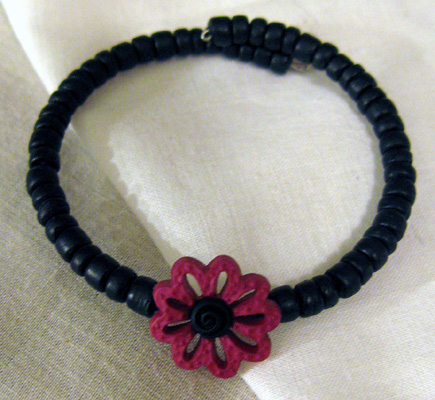 bracelet from Kauai
For Kauai, I'm bringing black shorts, black cargo capris, & black leggings, & then a black & white stripey T-shirt, a black jeweled T-shirt, a grey T-shirt with a bats print, a pink T-shirt with an 18th-century furniture print, & a black lace-trimmed cami, plus a black boyfriend cardigan & a red knit dress. Shoes will be jeweled flat sandals for walking around & rubber flip-flops for the beach/pool. And, of course, I'll bring this adorable
hot-pink retro swimsuit
.
Tropical trips are a little different than others, since all the clothing items are a bit, uh, small, & that gives me some leeway to pack a few more. Especially since we'll be going out to dinner most every night, & I'll want to wear a cute tropical sundress with snazzy sandals. And I don't have many other places to wear such things, so I'm bringing 'em all! So I'm bringing four sundresses & as many of my wacky wedge sandals as will fit in the one suitcase my husband & I are sharing.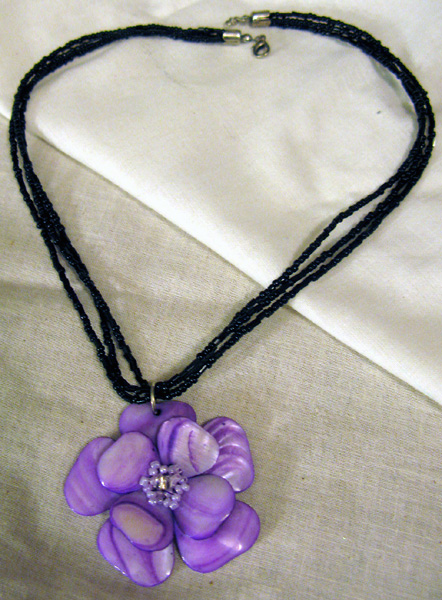 necklace from Waikiki
Yep, we're sharing a bag. We only do that on tropical vacations because (a) we don't bring as big & heavy of gear, & (b) that means one less baggage fee. It's even easier since
I started making him use
we started using
packing cubes
. I also use shoe bags rather obsessively -- I've collected & made soft bags to transport shoes in. They're important!
Couple more things I always pack: some
ChicoBags
(expandable, reusable bags that I can tuck into a purse; perfect for shopping trips!) & a
KleenKanteen
(stainless-steel reusable water bottle; fill with tap water after security check in the airport for easily accessible water on the plane & use when out walking around town during the trip). I use both of these alllllllll the time at home, & they are insanely useful on the road & abroad.
I plan to take lots of pix on the trip, but we'll have minimal Internet access (just on our iPhones). So no blogging. But I've got a couple more work days before I leave...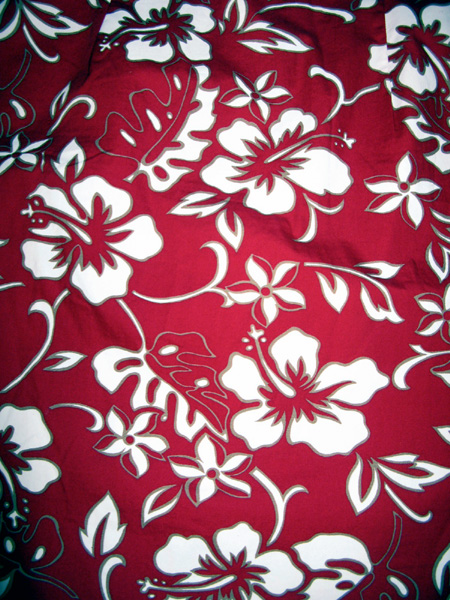 Hilo Hattie's print sheath dress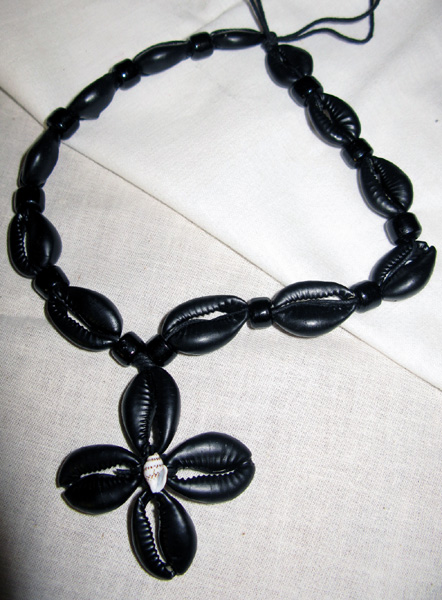 necklace from Florida