The sunny NorCal spring has come to a (temporary?) end -- today I awoke to grey drizzle, meaning I could only use the porch for a morning photo. The outfit I planned for Valentine's Day has just a touch of old-school (read: 1980s) romance. Nothing too obvious, no red or pink or hearts. Just a bit of RomantiGoth around the edges, plus it's comfy enough that I can wear it for the dinner at home my sweet hubby is making tonight.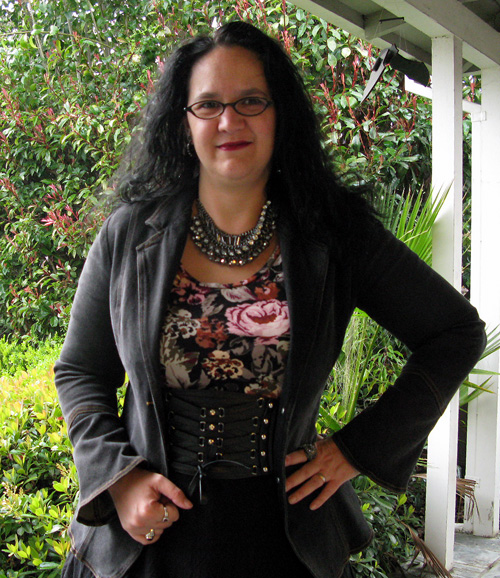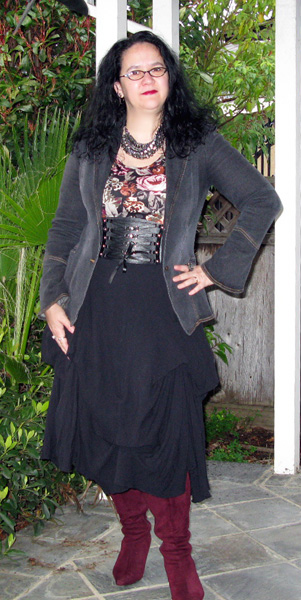 What I'm wearing:
Floral print knit top, H&M
Black gauzey skirt, Rampage
Black elastic faux-corset belt, Torrid
Dark grey denim bell-sleeved blazer, Newport News
Black tights, Calvin Klein
Burgundy faux-suede boots, DSW
Chunky gunmetal & rhinestone choker, random accessory stor
Gunmetal hoop earrings, Icing
Sparkly gunmetal cocktail ring, Icing
Dark burgundy lipstick, Chanel "Vamp"
Do you dress for holidays? Did you do anything specific for Valentine's Day?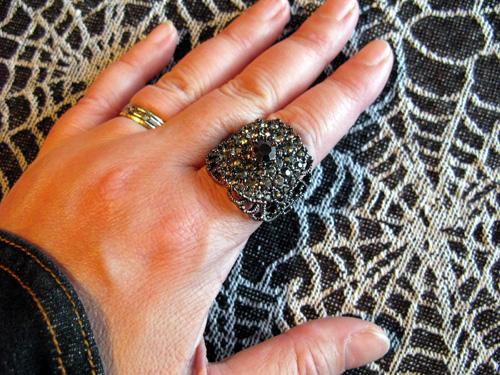 notice that tablecloth? yep, it's the same type as the
cloth that I made a skirt out of!