Maybe it's the gothic aesthetic, maybe it's that I'm a closet preppy-traditionalist, maybe I'm an old fuddy-duddy, but I've never mixed patterned garments in one outfit before. At least not on purpose or while sober / awake. I know it's very trendy among the fashion blogosphere, & Miss Vinyl Ahoy even wrote a
detailed tutorial on how to mix patterns
judiciously.
But most of the time, those outfits look, to me, like someone forgot to take their meds. I just don't get it. Too much going on at one time! Remember, goths have trouble wearing more than
one color + black
. A big floral print mixed with plaid & micro-checks or something is going to be freaky for this goth gal.
And yet, when I had the top half of today's outfit on & reached for the black skirt I'd planned to wear with it, I suddenly paused at the spiderweb-print skirt. Hmm... pinstripe top, solid vest, with spiderwebs? Would it work or would I look like a bad accident? I tried it, looked in the mirror, & didn't throw up. In fact, when I went for accessories, necklaces didn't want to go with the neckline of this vest & I remembered the new scarf I bought. With polka dots. Omg, what has happened to me???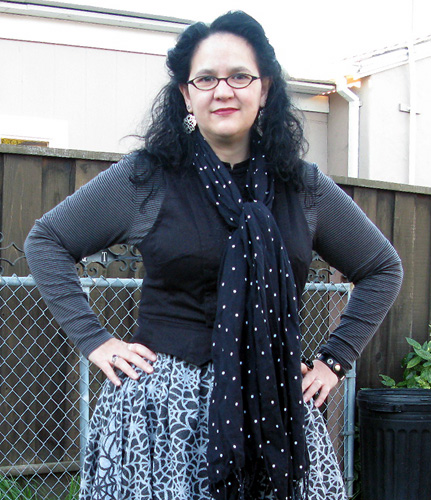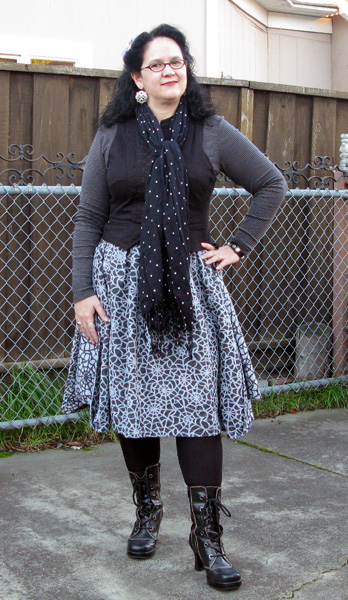 What I'm wearing today:
Black & grey pinstripe knit top, Old Navy
Black vest, bought from a friend
Black & white spiderweb-print skirt, made by me (first worn
here
)
Black & white polka-dot scarf, Old Navy
Black tights, unknown brand
Black lace-up spool-heel boots, Target
Large silver filigree earrings, Target
Giant black roses ring, Icing
Silver-grey flower hair pin, Icing
Unfortunately, the stripes in the top don't show up much in these photos, but I swear it looks like there's more print going on in real life.
Have you mixed patterns in an outfit? What do you think about the idea?