I had hoped to make it until March without buying more clothes. See, I have a couple trips coming up, so I wanted to save my pennies for those. After all, I did plenty of fashion shopping back around Black Friday & a little bit during Xmas sales. Not like I *needed* anything new...
But on Saturday, I went to the mall to buy a new cable at the Apple Store, & well, I ended up buying a ton of clothes & accessories. Fashion Math struck again! This is a theory that
Sarah
& I came up with -- small amounts spent on fashion don't seem to cost too much. You spend $30 on a belt & a necklace here, $40 on a couple tops there, lather, rinse, repeat throughout the mall, & while no single purchase was that big, by the end of the day, you've spent $300 on your wardrobe. But it's not like I bought one designer handbag! Fashion Math. Ugh.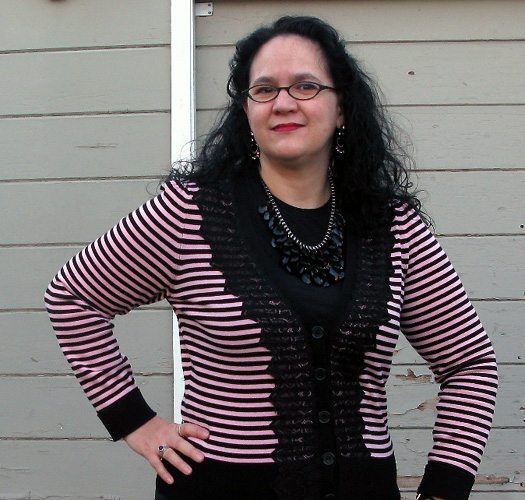 More about the other stuff I bought later, since it was mostly casual wear & a ton of accessories. The one splurge was this totally PerkyGoth sweater that I could not resist. The necklace & ring are also new.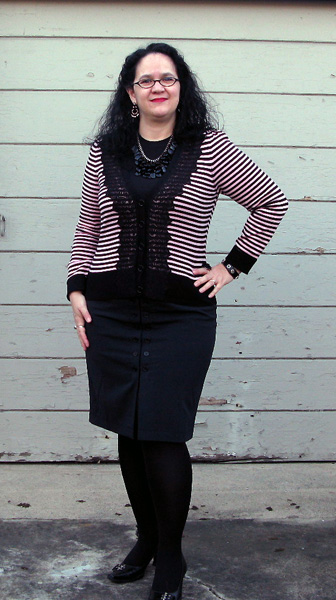 What I'm wearing today:
Black & pink stripey cardigan, INC for Macy's
Black T-shirt, Old Navy
Black straight skirt with button detail, Chadwicks
Black tights, Calvin Klein
Black pumps with silver buckles, Kenneth Cole
Black beaded bib necklace, Torrid
Giant black roses ring, Icing
So how often do you shop for clothes? Do you tend to buy lots of little things or one big thing?