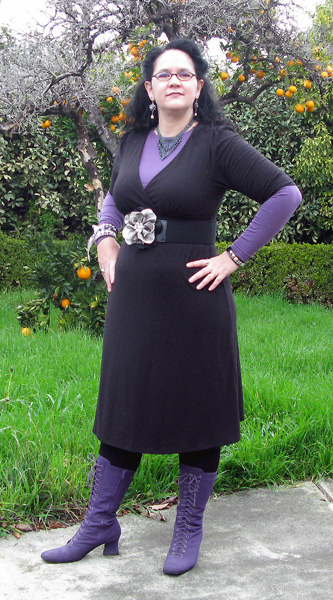 Call me lazy, but I decided to wear the same dress within three days. Hey, I only wore it for the afternoon on Saturday, & then I wore it layered today -- where's the crime? Besides, it shows diversity ;-) Let's start reverse-chronologically...
What I wore today:
Black knit dress, Target
Purple long-sleeve T-shirt, Target
Black tights, Calvin Klein
Purple lace-up boots, Roman's
Black elastic belt with silver flower, NY & Co.
Purple & hematite beaded choker, gift from a friend
Purple dangly earrings hand-painted with bats, made by a local artist
Silver & clear bead bracelet with ribbons, NY & Co.
Purple-brown shimmery lipstick, Victoria's Secret
Cozy outfit for a foggy & cool morning. I don't do a lot of layering under -- I tend to add sweaters & jackets over dresses. So this felt new for me. Also, as you might notice, this simple dress can be awfully cleavage-y for work, so it can't really go alone.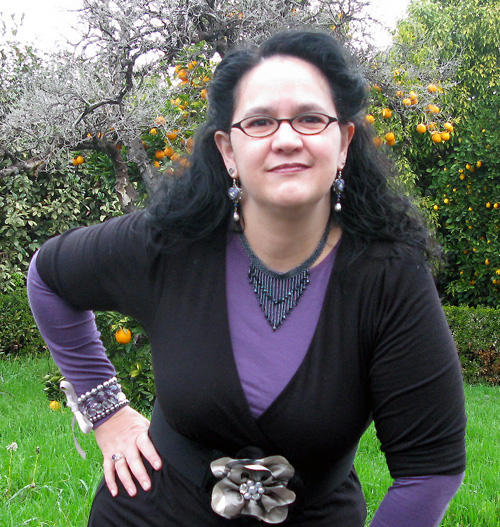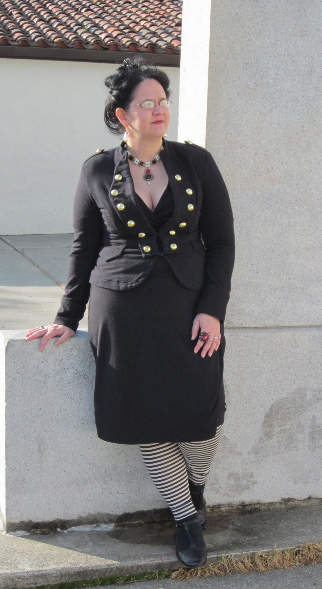 What I wore Sunday:
Black knit dress, Target
Black knit military-style jacket, Macy's
Black & white stripey leggings, American Apparel
Black socks, unknown brand
Black T-strap flats, Aldo
Elizabethan-style choker in faux gold, ruby, & pearls, eBay seller
Huge pearl-drop earrings, Forever 21
Huge red cut-glass ring, Forever 21
This was what I threw on after taking off my
1570s gown
that I wore in a fashion show that afternoon. I left on the jewelry that went with the gown, just for the heck of it (& because, when I grabbed clothes that morning, I didn't pack anything else!). I'm wearing my less-obviously-modern eyeglasses, which I use with costumes. And my hair is randomly thrown atop my head, having just come out of an elaborate period 'do. Not the best look, but this is how my CasualGoth fashion ends up.
Last photo thanks to Sarah (of
yet another fashion blog
).