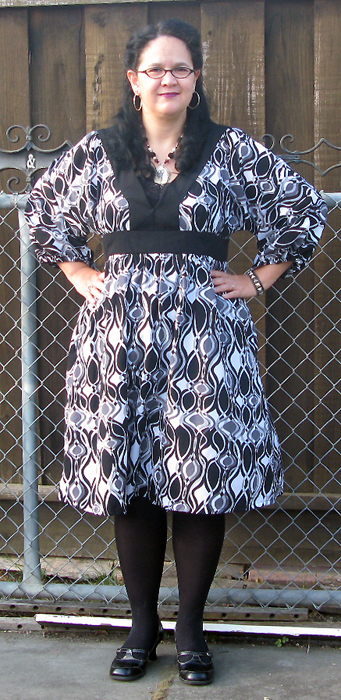 I don't normally blog repeat outfits, but what the heck. I do love this dress. And this necklace. Both were made by friends -- the dress was sewn for me by Donna, the necklace made for me by Lisa, two of my wonderful alt.gothic.fashion cohorts. I specifically chose these pieces because after work I planned to go buy a new sewing machine. I wanted to not only wear something comfortable for a longer day, but I wanted totems of creativity to give me luck.
What I'm wearing:
Black, grey, & white dress, made by Donna | Black camisole, Target | Black tights, Calvin Klein | Black round-toe pumps, Target | Purple & black scissors medallion necklace, made by Lisa | Silver hoop earrings, random accessory store
Take a look at my
costume blog
for the full story of what I used to sew with & what I finally bought today. Also, check out my new
CafePress store
with silly sewing-related T-shirts & more! I plan to add some CorpGoth themed items in the future.