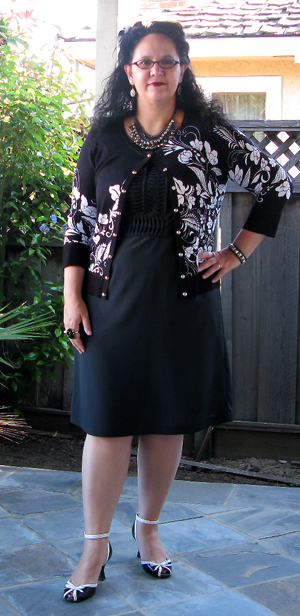 Summer can be difficult for goths -- let's face it, wearing black velvet in 90 degree Fahrenheit weather isn't smartest thing one can do. So we trade our favorite garb for plainer gear & dream of cooler seasons.
But we don't have to suffer, especially those of us working in professional situations. If you're in a climate-controlled office all week, you might think, hurrah!, wear black all year round! To some extent, this is true. Yet we still have to commute to and from work in sweltering temperatures, plus it's more appropriate to give a nod to the current season. Balance is the key.
Here are some of my tips for dressing office-appropriately in summer with a gothic or alternative twist (note: any shopping links are included for reference only, I don't make money off of them) --
Mix black with color.
OK, I do this all the time, but it's especially important in summer. Try black & white & also try black with soft shades such as lilac, plum, grey, pink, heather blue, seafoam green, etc. Not just black & brights or jewel tones. Also look for patterns such as florals & dots, which read as summery. Here are some of my favorite outfits:
black with plum & flowers
,
black with pink & stripes
,
black & grey
,
black & white
, even
all white
(I'm nuts, I know ;-).
Go with the flow, in proportion.
In really hot weather, it's tempting to wear lots of loose garments. Which is fine for the weekends, but that's not a very professional look, even in a casual office (trust me, those long, flowing skirts get caught in the rolling wheels of your office chair very easily!). But you can get some much-needed air flow on a stifling hot day by balancing your look with half flowy, half sleek. As in: Wear a knee-length, cotton dirndl skirt, & a crisp fitted blouse, or wear a trim pencil skirt & a drapey bat-wing or angel-sleeve top. Try it out! White House | Black Market has this gorgeous (if spendy)
black & white stripe bat-wing top
, for example.
Opt for sleeveless tops
, but keep a cardigan or jacket handy. Go sleeveless for your commute, & keep a long-sleeve option at your desk for that overly air-conditioned office. A simple black cardigan will go with most every outfit & is also handy to cover up for an unexpected meeting. If you have arm tattoos, you might particularly want a cardi or jacket in case company bigwigs who don't know you come by (first impressions are important). I inadvertently had a whole week of sleeveless summer outfits,
starting here
.
Try going bare-legged
or use patterned hosiery. If you work at a
very conservative office
, you're going to have to wear hosiery with skirts through summer no matter what. But in more casual offices, bare legs in summer can be OK, as long as your skirts come to the knee. Another option is using lightweight patterned hose such as lace or micro-fishnets or even spiderweb tights (if your workplace is very casual). Again, this looks most professional with to-the-knee skirts, no shorter. Here I go
bare-legged with a full skirt
, & these are
some lace tights
.
Experiment with up-dos
if you have long hair. Nothing feels better in summer than a breeze on the back of your neck, so keep yourself cool by putting your hair up. This can look chic & elegant or sassy & casual -- there are tons of up-do styles, so experiment & find some that work for you. Get a few clips or hairpins from the drugstore to help hold your hair up. You can also add decorative hair flowers (I'm a huge fan of these) or sparkly clips. If your office is conservative, wear small, subtle pins at least at first. Here's
me with a nice big flower
, plus earrings that match. If you want to get creative, Ruffles Not Diets has excellent examples & a video on
braids & updos for work
. What I Wore 2Day also has a nice variety of
summer updos
including buns & ponytails.
Consider crochet.
Black crochet garments are lovely, gothic, & comfortable this time of year. Skirts with a crochet overlay can add a lighter look yet have goth flair. And there are tons of options for crochet cover-ups -- cardigans, shrugs, even blouses, that would be office-friendly worn with an opaque camisole, tank, or tee underneath. Also look for openwork & lace details, just make sure there's a lining or throw a cami or slip under for modesty. Here's my fave.
crochet skirt
& a
long crochet duster
.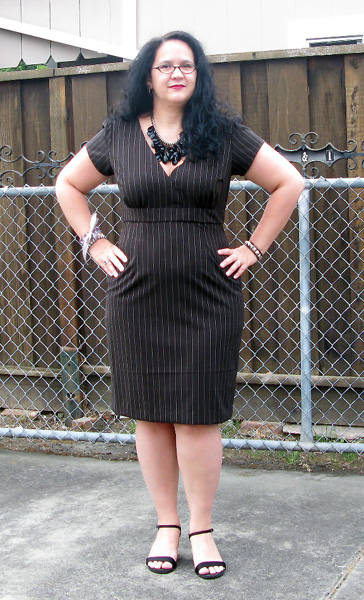 Look for lighter shoes.
Yes, I mean putting the boots away for summer. You'll look & feel more comfortable, honest. I love boots as much as the next goth gal, but I also hate having sticky, stinky, sweaty feet! Hunt down some black sandals that are office-appropriate. Look for slingbacks, peep-toes, ankle-straps, & other varieties of heels with cut-out spaces so you get a little ventilation. I'm not a huge fan of super-strappy shoes, & but if you work in a casual environment & can find strappy shoes without a high heel evocative of strippers, give it a shot. My preferred summer shoes include these
black satin sandals
,
black slingback pumps
, & yes, I occasionally wear some
fancy flip-flops
to work (when it's crazy-hot only!). These
strappy sandals from Zappos
would fit the bill in all but a very conservative office.
Go for stripes.
Our favorite Tim Burton-esque pattern is in abundance at stores during summer, masquerading as "nautical" or "Breton" stripes. True, some of these may be navy & white stripes, but you'll find plenty of suitable black & white, & you might consider branching out to the "Sweeney Todd" red & white stripe too. Striped tank dresses, cotton tops, full skirts, & similarly breezy pieces will add a summer flair to your outfits while retaining a punky edge. Macy's has a crisp
black/white stripe plus-size blazer
on sale, plus tons of stripey dresses & tops. Nordstrom has a nice
black/white blazer
with 3/4-length sleeves.
Swap the broomstick skirt for a maxi.
I know it's a staple of many goth girls' summer wardrobes, but leave the broomstick skirts for the weekends. They don't look very professional, even in casual workplaces, & they're not that practical (see above, re: office chairs). If you love the long skirt, instead try a more modern maxi-length skirt which is still comfy & casual, but sleeker & less airy-fairy. Bonus: You can find them in black & white stripes at just about every price (
Target
to
NY & Company
to
Ralph Lauren
).
How do you deal with summer in the office? Share your tips in the comments!
Related links: