What's black & white & red all over? Not a newspaper (anyone remember those?) & not exactly this outfit really. Still, I like the tiny pop of red the shoes & necklace add.
The nails, however, are a failure. Sure, they look good enough, but I heartily do not recommend this product, the
Sephora by Opi Trend Tips
nail appliques (this specific style is called "Ornate"). I put them on last night around 5pm, & they were already peeling off this morning. Undoubtedly, this is due to the poor packaging & instructions & overall ineffective quality of the product.
I've used the
Sally Hansen Salon Effects Real Nail Polish Strips
before (pictured
here
&
here
), & I love them. So I had a clue on how to apply this sort of nail applique. However, the Sally Hansen version comes with a two-sided buffer & an cuticle stick. You lightly buff your nails before applying the polish strip so the nail bed is prepped, then you use the stick to press the applique down around your cuticles & gently tear the excess bits of the strip away. Finally, you use the rough side of the buffer to smooth the nail tip & seal the end, which also removes last bits of excess applique. All of this creates a tight bond between your nail & the applique.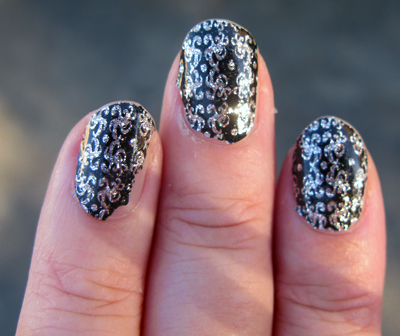 But the Sephora version doesn't come with any of these tools, nor do the instructions recommend those detailed steps. It's difficult to create a firm application, even though I had some of the tools myself. The Sephora appliques also tear more easily & just don't seem to stick that well.
Verdict: Save your money! At $12 versus about $8 for Sally Hansen, skip Sephora. Go to the drugstore if you want wacky patterned nails.
I'm stripping these off my fingers tonight -- that is, the ones that haven't already peeled off.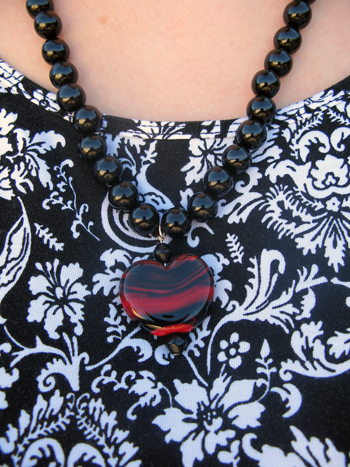 What I'm wearing:
Black & white damask-print top, Spiegel | Black skirt with lace trim, NY & Company | Black tights, Calvin Klein | Red Chinese-fabric flats, Shoe Metro | Black beaded necklace with red Murano glass heart, made by me | Gunmetal hoop earrings, random accessory store